Multi-Material Baler features single-ram design.
Press Release Summary: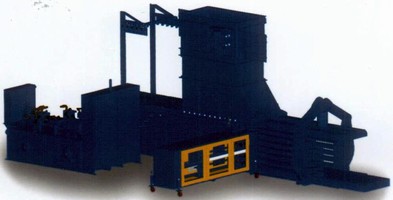 Using twin motors to produce dense bales without heavy power usage, HS8543 has rated production capacity exceeding 50 tons and 46,000 ft³ per hr. Floating tension force allows baler to adjust automatically to unique requirements of changing materials, while 8 spring-loaded retainer locks restrict bale spring back and minimize rooster tails. Auxiliary functions, such as auto-tier, fluffer door, and oil filtration, are driven by separate dedicated motor to conserve energy.
---
Original Press Release:

American Baler Puts the Pedal Down for High Volume Processors



At this year's Waste Expo Exhibition, American Baler Company will introduce a new 50 tons/hr. multi-material high-speed baler designed to meet growing demands from high volume processing facilities for a made-in-America solution.

Bellevue, OH - A new single-ram baler that American Baler Company will introduce at Waste Expo in April will take its place as the fastest, most powerful baler the 60-year-old company has ever built.

Designs for the HS8543 baler will be unveiled at the exhibition in Las Vegas. The HS8543 will have a rated production capacity exceeding 50 tons and 46,000 cu.ft. per hour.

Roger Williams, the National Sales Manager for American Baler, says that the decision to develop a new high-speed baler was driven by the needs of municipalities and waste management companies who have become increasingly committed to single-stream recycling facilities. "We have been very aware of the problems this sector has faced sourcing balers in this model range," Williams explains. "With virtually no U.S. based manufacturers actively producing 50 tons/hr. equipment, the industry has been hamstrung with respect to the costs and technical support issues related to offshore sourcing. We knew we could solve the problem, so we put the pedal down to deliver the high-speed baler that single-stream operators need."

According to Williams, single-stream processing holds great promise for the industry, but only if the large-scale equipment they operate can perform dependably and economically over the long term. As a made-in-America solution, the HS8543 offers single-stream operators an alternative that is backed nationwide by nearby support technicians and readily accessible, affordable service parts.

"The single-stream concept is built on dependability," Williams claims. "The volume of material these facilities collect every day really raises the bar, in terms of the need to ensure same-day processing. With our track record, operators know that they can count on American Baler to have technical staff and service parts available on a day's notice, to keep productivity high and operating costs as low as possible."

"The HS8543 will actually save on facility costs right from day one!", he continues. "Since it's built right here in Ohio, operators anywhere in North America will see significant savings in freight costs alone. They can expect to see the same savings on all the made-in-America service parts, too."

Based on the success of the HS8543 in its pre-production trials, American Baler is prepared to release many of the new unit's design and performance details at Waste Expo. While the new machine is a significant step up in size and capacity for American Baler, General Manager Dave Kowaleski says that its development was a natural progression for his engineering team. "We were very confident in taking this step from the beginning," Kowaleski recalls. "Our previous high-speed baler, the 8043, is recognized as an industry standard for multi-material processing in the 30 tons/hr. range. We have also had great success with our RAM II baler, achieving exceptional bale densities. So we already had the technology in-house to build a 50 tons/hr. baler that could produce the required bale densities. It simply became a matter of bringing it all together and proving the concept."

Kowaleski says the next step for the project is to ally with a single-stream facility to establish a demonstration site for the new baler.

The HS8543 will feature a large feed opening and twin motors, optimized to produce dense bales at high speed without heavy power usage. To further reduce energy costs, auxiliary functions such as the auto-tier, fluffer door and oil filtration are driven by a separate dedicated motor. A patented floating tension force allows the baler to adjust automatically to the special requirements of changing materials. An arrangement of 8 spring-loaded retainer locks in the bale chamber will restrict bale spring back and minimize rooster tails. The new unit will also be equipped with familiar American Baler features such as a swing-away auto-tie assembly and an advanced touchscreen operator interface with integrated diagnostic display. The baler will be fully compliant with ANSI Z-245.5 baler safety standards and the complete electrical system will be UL-certified.

American Baler Company has been helping businesses lower the cost of recycling "the American Way" for more than 60 years. Today, American Baler remains a pioneer in the design and manufacture of baling equipment for an expanding range of applications. From corrugated boxes and shredded documents to non-ferrous metals and mixed materials, American Baler matches the right baler to every operation for maximum throughput and lowest total cost-per-bale. With a full line-up of manual and auto-tie models and capacities from 2 to 50 tons-per-hour, American Baler is continuously developing improved solutions to deliver materials "baled like a brick" and backed by 24-hour live service support.

For information on American Baler single-ram, two-ram and high-speed balers, contact:

Roger Williams, National Sales Manager
American Baler Company
800 East Center Street
Bellevue, OH 44811
Tel: 800-843-7512
Fax:419-483-3815
E-mail: rwilliams@americanbaler.com
Website: www.americanbaler.com

More from Material Handling & Storage