Additive Manufacturing Systems
Multi-Material 3D Printers feature triple-jetting technology.
Press Release Summary: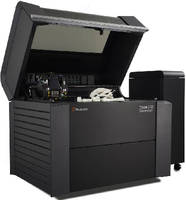 With 19.3 x 15.4 x 7.9 in. build envelope, Objet500 Connex1 can produce parts from 3 diverse materials in single production run. Material cabinet contains 8 cartridges, extending unattended runtime and minimizing changeovers. Reloading of material and support cartridges while printer is operating allows for continuous part production. In addition to all Connex1 capabilities, Objet500 Connex2 adds ability to combine droplets from two base materials to produce new materials or digital materials.
---
Original Press Release:

Stratasys Expands Triple-Jetting Technology with New Multi-Material 3D Printers



Objet500 Connex1 and Objet500 Connex2 deliver high throughput 3D printing while combining multiple materials for prototyping and production tooling



Learn about the new 3D printers at booth #N-6144 during IMTS, Sept. 8 –13 at McCormick Place in Chicago



Minneapolis & Rehovot, Israel — Stratasys Ltd. (Nasdaq:SSYS), a leading global provider of 3D printing and additive manufacturing solutions, today introduced the Objet500 Connex1 and Objet500 Connex2 Multi-material 3D Printers featuring the company's unique triple-jetting technology.



Stratasys triple-jetting technology is designed to allow the user to build products with up to three different materials in a single run, or even mix multiple material droplets to form new digital materials such as tough Digital ABS.



Joining the Objet500 Connex3 Color Multi-material 3D Printer announced in January, the Objet500 Connex1 and Objet500 Connex2 offer designers and manufacturers superior versatility for materials, functionality and product realism capabilities.



Objet500 Connex1

Equipped with a large build envelope, the Objet500 Connex1 Multi-material 3D Printer can produce parts from three diverse materials in a single production run. This allows users to create assemblies with components formed from three different materials, or it can produce components that contain both rigid and flexible materials, such as rubber-like Tango and rigid Vero material. The 3D printer can build a part up to 19.3 in. x 15.4 in. x 7.9 in. (490mm x 390mm x 200mm) or a mixed tray of small parts. A larger material cabinet contains eight cartridges, resulting in more unattended run time and fewer material changeovers than previous models. Hot swapping – or reloading material and support cartridges while the 3D printer is operating – allows for continuous part production. Multi-material 3D printing achieves in a single, automated build what would be either impossible to achieve with conventional single-material 3D printers or would require hand assembly from multiple print jobs.



Objet500 Connex2

The Objet500 Connex2 Multi-material 3D Printer enables users to combine transparency, durability and flexibility in one part. It has all the capabilities of the Objet500 Connex1 plus the ability to combine droplets from two base materials to produce new materials or "Digital Materials." Digital ABS, for example, is the most durable material available for the Stratasys PolyJet process and is often used to produce mold cores and cavities for short-run injection molding. With more than 100 material options, Connex2 users can produce a variety of Shore A values in the same part with rigid or clear components, or can combine Digital ABS with pure Tango for strong over-molded handles and grips. The versatility of the Objet500 Connex2 also makes it ideal for creating custom manufacturing tools such as jigs and fixtures.



"Following the launch of the Objet500 Connex3 earlier this year, we saw the demand for additional multi-material 3D printers that can address a variety of applications in prototyping and manufacturing, such as tooling and molding," explains Stratasys' Senior Product Marketing Manager Ron Ellenbogen. "We were able to build on the success of our triple-jetting technology and expand the Objet500 Connex family with two 3D production systems that we believe set new standards for 3D printing price performance."



For more information about the Objet500 Connex1 and Objet500 Connex2, contact a reseller or visit Stratasys' website. Images, video, white papers, a brochure and spec sheets for both 3D printers are available by visiting the Stratasys newsroom.



Stratasys Ltd. (Nasdaq:SSYS), headquartered in Minneapolis, Minnesota and Rehovot, Israel, is a leading global provider of 3D printing and additive manufacturing solutions. The company's patented FDM®, PolyJet™, and WDM™ 3D Printing technologies produce prototypes and manufactured goods directly from 3D CAD files or other 3D content. Systems include 3D printers for idea development, prototyping and direct digital manufacturing. Stratasys subsidiaries include MakerBot and Solidscape, and the company operates a digital-manufacturing service comprising RedEye, Harvest Technologies and Solid Concepts. Stratasys has more than 2,500 employees, holds over 600 granted or pending additive manufacturing patents globally, and has received more than 25 awards for its technology and leadership. Online at: www.stratasys.com or blog.stratasys.com



Stratasys and Objet are registered trademarks, and Objet500, Connex, PolyJet, are trademarks of Stratasys Ltd. and/or its subsidiaries or affiliates.



Stratasys

Arita Mattsoff / Joe Hiemenz

Stratasys

Tel. +972-(0)74-745-4000 (IL)

Tel. +1-952-906-2726 (US)

arita@stratasys.com

joe.hiemenz@stratasys.com 

More from Construction Equipment and Supplies