Multi-Material 3D Printer targets large dental labs.
Press Release Summary: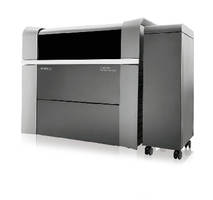 With triple-jetting capability, Objet500 Dental Selection 3D Printer enables life-like color models and multiple applications to be 3D printed in single run. System produces dental models with gum-like softness and color, range of natural tooth shades, and nerve canals or other anatomy in contrasting materials. Featuring 19.3 x 15.4 x 7.9 in. build volume, printer can produce horizontal build layers as fine as 0.0006 in. Resolution is 600 dpi in X-axis, 600 dpi in Y-axis, and 1,600 dpi in Z-axis.
---
Original Press Release:

Stratasys Groundbreaking Multi-Color, Multi-Material 3D Printing Now Available for Larger Dental Labs Who Need Increased Throughput, Productivity



Larger platform Objet500 Dental Selection offers increased throughput and productivity, with triple-jetting capability to enable life-like color models and multiple applications to be 3D printed in a single run



New 3D printer is ideal for larger labs to benefit from digital dentistry



Minneapolis & Rehovot, Israel – Stratasys Ltd. (Nasdaq:SSYS), the 3D printing and additive manufacturing solutions company, introduces the Objet500 Dental Selection 3D Printer for larger dental and orthodontic labs that require volume production of highly precise, life-like models. The new 3D printer brings high throughput to Stratasys exclusive multi-color, multi-material dental modeling.



The Objet500 Dental Selection 3D Printer's large build area allows a dental laboratory to dramatically increase throughput while its triple-jetting technology can create a variety of dental-specific palettes allowing multiple applications to be combined in a single run.



Accurately Simulates Look and Feel of Teeth and Gums

The multi-color, multi-material 3D printing solution produces dental models with gum-like softness and color, a range of natural tooth shades, and nerve canals or other anatomy in contrasting materials. This is accomplished by combining Stratasys flexible and rigid PolyJet dental materials, including:



• VeroDent (MED670), a natural peach-tone material offering high-quality detail, strength and durability.

• VeroDentPlus (MED690), a dark beige material that creates ultra fine features and finish, and offers excellent strength, accuracy and durability.

• VeroGlaze (MED620), an opaque material with A2 shading meaning dental labs can now offer dentist offices the best color match in the industry. Ideal for veneer try-ins and diagnostic wax-ups, VeroGlaze is medically approved for temporary in-mouth placement, up to 24 hours.

• Clear Bio-compatible (MED610), can produce orthodontic appliances, delivery and positioning trays, surgical guides for temporary in-mouth placement and investment casting patterns for removable partial dentures.



"Seven months ago, Stratasys transformed digital dentistry by enabling ultra-realistic dental models to be 3D printed in a single run. This new level of flexibility, precision and efficiency was aimed to allow labs to streamline their digital workflow while improving their competitive edge," said Steffen Mueller, General Manager, Dental Solutions, Stratasys. "Now with the launch of the Objet500 Dental Selection 3D Printer, we are adding increased throughput and productivity to this winning formula by featuring Stratasys game-changing, triple-jetting technology on a larger platform. We believe this is a 'must have' 3D printing solution for larger dental and orthodontic labs that want to provide a superior customer experience while maintaining profitable volume production."



Application examples include:



• Implant testing on stone models with a gingival mask that mimics the look and feel of real gums for accurate evaluation of the emergence profile.

• Single models or groups of models that require different materials to be used simultaneously in one unattended job.

• Models requiring gum-like materials, even mixed with rigid features.

• Jaw models 3D printed directly from CBCT scan data with high-definition tooth, root and nerve canal anatomy rendered in contrasting materials.



Accelerated Throughput for Robust Digital Workflows

The Objet500 Dental Selection is an especially attractive solution for larger dental restorative and orthodontic labs that are interested in implementing digital dentistry end-to-end, from intra-oral scanners to realistic models, and which serve a wide range of dental applications in larger production volumes.  Because multiple applications can be produced in a single print run, the Objet500 Dental Selection requires fewer interventions which frees lab staff for more important operations.



A generous build volume of 490 x 390 x 200 mm (19.3 x 15.4 x 7.9 in.) accommodates demanding workflows. It can produce horizontal build layers as fine as 16-microns (0.0006 in). Resolution is 600 dpi in the X-axis, 600 dpi in the Y-axis and 1600 dpi in the Z-axis. The system has accuracy levels of 20-85 µm for features below 50mm and accuracy levels up to 200 µm for full model size. It offers two build modes: high quality (16-micron) resolution, or high-speed (28-micron) resolution. The cabinet dimensions are 1400 x 1260 x 1100 mm (55.1 x 49.6 x 43.3 in). Additional supported materials include VeroWhite, VeroMagenta, TangoPlus, TangoBlackPlus, a range of gum-like Digital Materials, and Digital Materials in a range of natural tooth shades.



The Objet500 Dental Selection system is compatible with all open format color intra-oral scanners.

Visit the Stratasys website for more information about its dental 3D printer line and the Objet500 Dental Selection.



For more than 25 years, Stratasys Ltd. (NASDAQ:SSYS) has been a defining force and dominant player in 3D printing and additive manufacturing – shaping the way things are made. Headquartered in Minneapolis, Minnesota and Rehovot, Israel, the company empowers customers across a broad range of vertical markets by enabling new paradigms for design and manufacturing. The company's solutions provide customers with unmatched design freedom and manufacturing flexibility – reducing time-to-market and lowering development costs, while improving designs and communications. Stratasys subsidiaries include MakerBot and Solidscape and the Stratasys ecosystem includes 3D printers producing prototypes and parts; a wide range of 3D printing materials; parts on-demand via Stratasys Direct Manufacturing; strategic consulting and professional services; and Thingiverse/GrabCAD communities with 5+ million free design components, printable files. With 3,000 employees and 800 granted or pending additive manufacturing patents, Stratasys has received more than 30 technology and leadership awards. Visit us online at: www.stratasys.com or http://blog.stratasys.com.



Stratasys and Objet are registered trademarks and Objet500 and Dental Selection are trademarks of Stratasys Ltd. and/or its subsidiaries or affiliates.



• USA 1-877-489-9449

• Europe/Middle East/Africa +49-7229-7772-0

• Asia Pacific +852 3944 8888



Stratasys Media Contacts:

North America

Danielle Ryan

Stratasys Ltd.

952-906-2252

danielle.ryan@stratasys.com

More from Services