Multi-GNSS Constellation Simulator enables broad analyses.
Press Release Summary: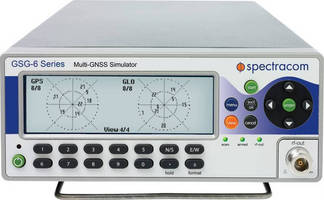 Dual-frequency, 32-channel GSG-62 L1+L2 offers multiple frequency band operation, multiple GNSS constellation simulation, and expansion capability for frequency bands and channels. Suited for manufacturing and development tests, product can simulate all visible satellites for receiver under test. There are 16 channels for L1 frequency and 16 channels for L2 frequency, all of which can be assigned to GPS or GLONASS, P-code, or C/A code. Channels may also be used for SBAS simulation.
---
Original Press Release:

New Dual Frequency Multi-GNSS Constellation Simulator



Spectracom's 32-channel GSG-62 provides expandability to simulate current and future satellite navigation signals and frequencies

ROCHESTER, NY USA - Spectracom, a business of the Orolia Group (NYSE Alternext Paris - FR0010501015 - ALORO) and the leading provider of practical test solutions for GPS and GNSS devices and systems, today announced its new L1+L2 dual frequency 32-channel multi-GNSS simulator, the GSG-62. The GSG-62 offers multiple frequency band operation, multiple GNSS constellation simulation, and expansion capability for more frequency bands and channels.

Spectracom's newest addition of industry leading simulators extends the brand's reputation for portability, flexibility and ease-of-use, with expanded capabilities for those who are testing more than GPS L1. John Fischer, Spectracom CTO, said "We understand the challenges our customers have in fast-paced development, migration and delivery of products with ever changing embedded GNSS receivers. As such, we are excited to introduce this next generation multi-signal instrument that allows for real time scenarios, is intuitive to understand, quick to deploy and, given its design to support upgrades to L2C, L5 and future GNSS frequencies and systems, protects our customer's investment in test gear." Fischer continued, "In addition to a wide variety of technical challenges, we also understand our customers must balance the ability to quickly develop solutions and improve cost performance in their operations. We believe the price (just under $30k), unique features and form factor of the GSG-62 will allow them to do both."

Versatile, reliable, and powerful, the GSG-62 is ideal for manufacturing and development test with its ability to simulate all the visible satellites for the receiver under test. With 16 channels for L1 frequency and 16 channels for L2 frequency, channels can be assigned to GPS or GLONASS, P-code or C/A code. Channels may also be used for SBAS simulation of EGNOS, WAAS, GAGAN, or MSAS satellites, or for multipath and interference signals.

The GSG-62 incorporates all the features of our previous models, including compatibility with GSG StudioView(TM) PC software for easy creation and editing of simulation scenarios via Google Maps.

About Spectracom
Spectracom, a business of the Orolia Group, supports a variety of applications in vital communications networks and high throughput test & measurement throughout the world. Our products, systems and services enable our customer's success by Synchronizing Critical Operations®. We offer outstanding customer service backed by continuous certification to ISO9001 and other quality programs in locations covering the globe. For more information, visit www.spectracomcorp.com.

About Orolia
Orolia is a high-technology group specialized in precise Positioning, Navigation and Timing. Orolia provides high-precision electronics equipments that generate, distribute, measure and process the High-precision Time & Frequency signals that Critical Operations use to detect, trace, control, analyze or synchronize time and location-critical events. High-precision timing, positioning and synchronization solutions are vital for critical applications in growing markets such as Defense, Public Safety, and Telecom & Broadcasting in land, maritime, air or space environments. Since 2006, the Orolia group has been able to establish itself as one of the leaders in PNT solutions at a global level through its strong brands: Spectracom, SpectraTime, T4Science, McMurdo, Kannad Aviation, Kannad Marine integrated into two Customer-Focused Divisions : "Positioning" and "Timing, Test & Measurement". Orolia's headquarters are located in Les Ulis, (France). The company also has main offices in Neuchtel (Switzerland), Rochester (New York), Basingstoke (UK), Portsmouth (UK) and Guidel (France). (France). Orolia has both OSEO "Innovative Company" & "OSEO Excellence" Labels and wins the Bold Creativity Prize (2010) and the Deloitte 1st Prize in aeronautical sector at the Deloitte Technology Fast 50 annual award (2011). www.orolia.com

More from Cleaning Products & Equipment