Multi-Gas Analyzer targets air separation plants.
Press Release Summary: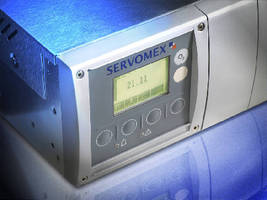 Available in benchtop, panel, or 19 in. rackmount options, SERVOPRO MultiExact provides 2 simultaneous measurements for O2 Purity, O2 Control, O2 Trace, CO2 Trace, and N2O Trace. Unit incorporates user-definable air point calibration function for O2 Trace and mA autoranging functionality. In addition to RS232 serial communications, analyzer offers NAMUR-compliant fault relay functions, allowing alarms, maintenance, and service-in-progress messages to be communicated remotely.
---
Original Press Release:

Servomex SERVOPRO MultiExact to Deliver Total Gas Analysis Solution for Air Separation Plants



Servomex is to offer air separation plants an innovative new multi-gas analyser specifically developed and optimised to the latest industry requirements.

Building on the success of the Servomex 4100, The SERVOPRO MultiExact will combine Servomex's industry-leading analyser performance with a range of new and enhanced functions incorporated as standard. The MultiExact will provide two simultaneous measurements for O2 Purity, O2 Control, O2 Trace, CO2 Trace and N2O Trace from one analyser family, offering unparalleled ease-of-use while minimising maintenance and cost of ownership.

The MultiExact showcases Servomex's expertise in gas sensing technologies to deliver exceptional levels of accuracy, stability and reliability for all required gas measurements. Servomex's unique paramagnetic cell technology, enhanced with temperature control and pressure compensation, ensures accurate, highly stable measurements for O2 Purity while reliable monitoring for O2 Trace is provided by Servomex's acclaimed zirconia cell design. CO2 Trace and N2O Trace are measured using Servomex's innovative infra-red gas filter correlation (GFx) technology, delivering highly stable, sensitive and selective measurement for both gases.

Enhanced by a simple, intuitive interface that requires minimum training, the MultiExact introduces a range of innovations that greatly enhance operational flexibility for ASU engineers. An advanced mA autoranging functionality is incorporated as standard, allowing users to customise measurement ranges, while a user-definable air point calibration function for O2 Trace enables greater flexibility to accept different sources of calibration oxygen. User downtime is further minimised by autovalidation and autocalibration functions that enable a calibration check without suspending operation.

Comprehensive communication protocols are available, with RS232 serial communications implemented as standard and options available to install both Ethernet connectivity and Modbul via RS485. The MultiExact also offers NAMUR-compliant fault relay functions, allowing alarms, maintenance and service-in-progress messages to be communicated remotely.

A number of further upgrades are available for the MultiExact including ProfiBus communications, an internal valve block function and the installation of a unique Servomex-designed flow sensor, positioned after the measurement outlet, to ensure flow is constantly monitored.

The MultiExact is available in bench top, panel or 19" rackmount options, with the same 3U dimensions as the 4100 making rackmount replacement a straightforward process. The MultiExact's dual component capability enables two GFx to be installed in a compact short chassis, reducing the unit's footprint to help save valuable space. The introduction of digital 'plug and play' transducers, enhanced diagnostics and removal of internal scrubber on Gfx means the MultiExact is simple and cost-effective to service.

The MultiExact is therefore the ideal single-unit solution for air separation plants, suitable for a full range of operations including process control and product purity measurement.

"Servomex's expertise in gas analysis is based not only on our technologies, but understanding the very specific needs of our customers," says Chris Cottrell, Managing Director, Servomex.

"The MultiExact has been developed with the end user in mind, and the increased functionality and new digital options will give ASU owners unparalleled, cost-effective performance for their operations."

For more information about the Servomex SERVOPRO MultiExact, contact the Servomex sales team at the European Business Centre (+31 (0) 79 330 1581 / 00800 737866390 Toll free in France, Holland, Germany, Belgium and the UK) Americas Business Center (+1 281 295 5800) or Asia Pacific Business Centre (+86 (0)21 6489 7570). For more information visit www.servomex.com

Related