Multi-Format Video Switcher handles complex productions.
Press Release Summary: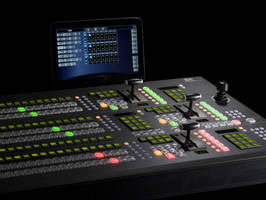 Available in 2, 2.5, or 3 M/E models, HVS-4000 offers optional support for 1080p, 3 Gbps, and 3D production. While 2 M/E switcher comes with 16- or 24-button control panel, 24- or 32-button control panels for 2.5 and 3 M/E models enable direct access to preset content, including macro bus and event recall button for each M/E. All versions let operator switch between HD and SD signals as well as various HD formats and invert video, add delays, and adjust parallax.
---
Original Press Release:

FOR-A HVS-4000 Production Switcher Makes U.S. Debut at 2011 NAB Show



Multi-Format Switcher Available in 2 M/E, 2.5 M/E, and 3M/E Versions, Offers Options for 3D, 3 Gbps* Production

Fort Lee, N.J. - FOR-A, a leading manufacturer of video and audio systems for the broadcast and professional video industries, will showcase its new HVS-4000 multi-format video switcher at the at the 2011 NAB Show, which runs April 11-14 at the Las Vegas Convention Center in Las Vegas, Nev. (Booth C5219). Available in 2 M/E, 2.5 M/E or 3 M/E models, the switcher is loaded with standard features to handle complex video productions, and offers optional support for 3 Gbps* and 3D production.

"The new HVS-4000 was designed to handle a variety of production challenges," said Pedro Silvestre, Sales Director, FOR-A Corporation of America. "With options that can support 1080p* and 3D production, our switcher can easily grow with our customers as their production needs evolve. Customers can also easily upgrade to a 3 M/E model from a 2 M/E version."

The HVS-4000 comes with a control panel for the 2 M/E version and one for the 2.5 M/E and 3 M/E models. The 2 M/E switcher comes with either 16 or 24-buttons. The control panel for the 2.5 M/E and 3 M/E models enables direct access to preset content, including a macro bus and event recall button for each M/E. And the 2.5 and 3 M/E versions come with either 24 or 32-buttons.

With its simple panel operation, the HVS-4000 lets the operator switch between HD and SD signals and the various HD formats. With the optional up/down/cross converter card installed, the system can support mixed input from HD and SD devices. Supported HD formats include: 1080/59.94i, 1080/60i, 1080/50i, 1080/30PsF, 1080/29.97PsF, 1080/25PsF, 1080/24PsF, 1080/23.98PsF, 720/60p, 720/59.94p, 720/50p; SD formats supported: 525/60, 625/50. Supported 3G formats include: 1080/59.94p, 1080/50p*.

With its optional stereo 3D function, the HVS-4000 can handle the left and right video from a stereo camera as a pair, allowing the operator to switch or invert video, add delays, and adjust parallax. The M/E count does not change even if used as a stereoscopic 3D switcher.

The HVS-4000 comes standard with four keyers for each M/E. Eight keyers are standard on the 2 M/E model, 11 keyers are standard on the 2.5 M/E model, and 12 keyers are standard on the 3 M/E model. Optionally, two keyers can be added to each M/E, enabling expansion of to up to 12 keyers on the 2 M/E model, 15 keyers on the 2.5 M/E model, and 18 keyers on the 3 M/E model.

Additional Key Features:

Standard 4/10/16-split multi-viewer, second multiviewer can be added


2.5D DVEs and 3D DVEs can be added simultaneously. Up to six channels can be added to the 2.5D DVE. Up to eight channels can be added to the 3D DVE.


Macro function to record and playback operating procedures with press of a button


Integrated control of various external devices, such as: routing switcher, VTR, DDR, clip server and multi-viewer


Optional color corrector can be added for inputs, bus line and AUX.


DVEs can be applied to each bus for transitions.


2 DSKs can be added for AUX.


Event memory capable of registering all types of parameter settings. Up to 1000 events can be registered.

The HVS-4000 will be available this summer.

*The HD/SD dedicated model and 3G/HD/SD support model come in separate cabinets, which is currently under development.

About FOR-A
FOR-A Corporation of America is a major manufacturer and distributor of video and audio systems to the broadcast, postproduction, and professional video markets. For more information about FOR-A's product line, call (714) 894-3311 or visit our web site at www.for-a.com.

FOR-A is the official spelling of FOR-A Company Limited. In print, please use all capital letters when referring to the name of FOR-A.

FOR-A CORPORATION OF AMERICA, Fort Lee Executive Park, 2 Executive Drive, Suite #670, Fort Lee, N.J. 07024 Phone: 201-944-1120, Fax 201-944-1132
Web site: www.for-a.com

More from Machinery & Machining Tools