Multi-Display Link connects dozens of HMIs to one PC.
Press Release Summary: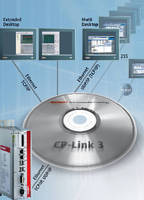 Based on 100 Mbit/s Ethernet and IP protocol, CP-Link 3 enables users to connect up to 255 Ethernet panels or panel PCs with one industrial PC. Display contents are captured by virtual graphic adapter in host PC and sent using Ethernet to one or more Ethernet panels with Windows OS. For display communication, TCP/IP or UDP/IP can be configured, depending on operating mode. Networking can be done using standard CAT 5 cables, which are suitable for drag chains.
---
Original Press Release:

Beckhoff Automation Introduces CP-Link 3 for Connecting Dozens of HMIs to One IPC



Cost-effective technology makes it possible to connect up to 255 Ethernet Panels or Panel PCs

MINNEAPOLIS, April 2, 2009 - In order to promote flexible and cost effective industrial display technologies, Beckhoff Automation has announced CP-Link 3 for human machine interface (HMI) installations. With CP-Link 3, Beckhoff presents a new display and visualization concept for flexible connection of up to 255 Ethernet Panels or Panel PCs with one Industrial PC. CP-Link 3 is based entirely on standard hardware (Ethernet) and IP-based protocol for transfer of images. Networking can be done using standard, cost-effective Ethernet cables (CAT 5) which are suitable for drag chains.

With the introduction of CP-Link 1, Beckhoff has supplied remote operator interface technology since 1998. This has permitted display elements to be designed as an independent unit, separate from the control level. The wide range of positioning options gives users of Beckhoff Control Panels a great deal of installation flexibility.

While the existing CP-Link 1 and CP-Link 2 solutions are based on special hardware components, the newly introduced CP-Link 3 is a pure software solution and is based entirely on standard technologies: 100 Mbit/s Ethernet and IP protocol. The display contents are captured by a virtual graphic adapter in the host PC and sent using Ethernet to one or more Beckhoff Ethernet Panels with Windows operating systems (CE and XP Embedded, XP). For display communication, TCP/IP or UDP/IP (Multicast) can be configured, depending on the operating mode.

In terms of screen display, a distinction is made among three operating modes:

- Single Desktop: A virtual graphic adapter shows the image of the host PC on a display connected via Ethernet.

- Extended Desktop: One or several virtual graphic adapters are used as extensions to the host PC desktop. In this way, Windows can be extended to as many as 9 displays.

- Multi Desktop: All connected displays show the same image (via UDP/IP on up to 255 panels). In multi desktop mode, an input can be made to each panel at the same time. The displays can be interlocked (mouse and keyboard) to coordinate the inputs.

The host PC transfers image signals, touch screen and special key functions as well as "Virtual USB" to the panels. Virtual USB emulates a USB root hub in the host PC. If a USB device is plugged into an Ethernet Panel, the virtual hub logs the device onto the operating system of the host PC and transparently transmits the ensuing communication. For the operating system, the USB device behaves as though it was directly connected to the PC. Virtual USB transfers the standards USB 1.1 and USB 2.0.

The new CP-Link 3 concept is supported by all Beckhoff Ethernet Panels and Panel PCs. Users simply need CP-Link 3 client software and Windows CE or XP Embedded as an operating system to implement this new technology. The aluminum Control Panels from Beckhoff have high-quality TFT displays available in a wide range if screen sizes. A touch pad or touch screen can be integrated as an option and there are numerous other options for customization.

Beckhoff Automation provides advanced, open automation products based upon proven technologies so that customers can implement high performance control systems faster and at a lower overall cost than traditional PLC and motion control systems. Beckhoff's "New Automation Technology" product range includes PC based control, industrial PCs, automation controllers, operator interface, I/O, servo drives and motors. With representation in more than 60 countries, Beckhoff is well positioned to provide global sales and service to its customers. Sales and service are handled directly, with no intermediaries involved to provide faster response and improved communications.

Please send readers' questions regarding "CP-Link 3" to:

Beckhoff Automation LLC

12150 Nicollet Ave. S

Burnsville, MN 55337

Phone: 952-890-0000

Fax: 952-890-2888

e-mail: beckhoff.usa@beckhoff.com

www.beckhoffautomation.com

More from Laboratory and Research Supplies and Equipment