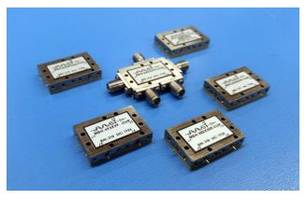 Specifying a single Multi-Coupler Module (MCM) from Microwave Solutions, Inc., instead of three separate couplers, save space by eliminating separate connectors and improve consistence performance because each coupling factor can be individually specified and the VSWR interactions between couplers can be better controlled. These Multi-Coupler Modules can be specified in a variety of different coupler combinations with coupling ranges of 3 to 20 dB, in various bands from 2 to 20 GHz.
Because they have field removable SMA connectors, further size reduction can be realized by simply removing the connectors for insertion directly on the printed circuite board. All modules have good input and output VSWR's and are unconditionally stable. Typical specifications for an X-band version: PORT 1-2 with Ins. Loss of 3.5dB max. PORT 1-3 with Ins. Loss of 10.2dB max. PORT 1-4 with Ins. Loss of 9.5 max. PORT 1-5 with Ins. Loss of 20.0dB max. All ports have a VSWR of 2.0:1 max. Size 1.14x.74x.22 inches (LxWxH)
About Microwave Solutions, Inc.
Founded in 1984, Microwave Solutions, Inc. is a leading high tech electronics design and manufacturing company based in Southern California. We have been providing top of the line "Microwave Solutions" to both large and small companies, world-wide. Our engineering team has extensive experience designing both active and passive RF and microwave circuits. For more information, please visit our website at www.microwavesolutions.com
Contact:
Judith Thomas
Phone: 619-474-7500 x222
jzthomas@microwavesolutions.com
Microwave Solutions, Inc
3200 Highland Ave. Suite 300
National City, CA 91950
Phone: 1-619-474-6906
Fax: 1-619-474-7003
http://www.microwavesolutions.com
More from Electrical Equipment & Systems