Multi-Chip LEDs offer range of power options.
Press Release Summary: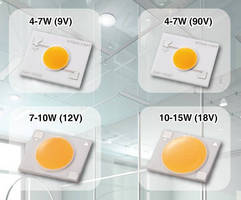 Chip-on-board (COB) LEDs of JU series include 7, 10, and 15 W types, in addition to existing 4 W version, that suit directional applications which require single source for illumination. With efficacy of 110 lm/W or more at 3,000K CCT, CRI >80 Ra, and 25°C substrate temperature, models consist of four JU1215 (15 x 12 x 1.6 mm) and one JU2024 (20 x 24 x 1.6 mm) types. Versions are available from ANSI bin 2,700K to 6,500K and offer 3 step (McAdam) options.
---
Original Press Release:

Everlight Extends JU Series of COB LEDs



Growing family of high-quality single light sources for directional lighting applications offers an outstanding cost/performance ratio of >400lm/$



Shulin, New Taipei City — EVERLIGHT ELECTRONICS CO., LTD. (TSE:2393) a leading player in the global LED industry, has expanded its high performance JU series of chip-on-board (COB) LEDs to include 7, 10 and 15 W types in addition to the existing 4W version. COB LEDs are especially suited for directional applications that require a powerful single light source for effective illumination such as GU, MR and PAR retrofits, downlights and candelabras.



The JU series now consists of four JU1215 (15x12x1.6mm) and one JU2024 (20x24x1.6mm) type/s with powers ranging from 4 watts to 15 watts. All types provide an efficacy of 110lm/W or more at 3000K CCT, a CRI of >80Ra and 25° C substrate temperature, and are available in versions ranging from ANSI bin 2,700 K to 6,500 K. The JU series also offers 3 step (McAdam) options for advanced utilization.



JU COB LEDs are multi-chip solutions that are directly applied to the board without housing, for efficient thermal dissipation. Their ceramic substrate base allows for thermal resistances of below 2°C/W, with the largest wattage COB measuring around 0.8C°/W. Low thermal resistance and superior heat dissipation ensure high reliability and increase the LEDs' service life.



Each COB has its unique features with carefully calculated chip configurations for optimal lumens per dollar of >400lm/$ and optically compact light emission surfaces (LES) for effective pairing with secondary optics.



Additional JU COB options such as Color Choice(r), high voltages from 45 to 250V for different regions and applications, and high CRI (>90Ra) are available to meet customers' specific needs. All JU COBs have completed LM80 lumen maintenance testing and are offered with a complete line of accessories such as standardized holders, appropriate reflectors and more.



The future product roadmap of the JU family provides for additional higher power members as 25W / 35W / 50W for track light, down light or low bay applications by Q4/2013. Meanwhile, 4W / 8W / 13W / 17W / 26W MCPCB 120lm/W COB are coming out for wider options.



Sample Available: Yes. (Upon request)  Mass Production: Now



More information or data sheet for this product upon request: Please contact your local Everlight sales office. Local sales information: www.everlight.com.



The Right LED for the Right Application

A dedicated application-based marketing approach supports the idea that every application is to be paired with ¡°The Right LED¡± to provide the best performance and quality. Every package design presents its own advantages in certain applications.



Everlight is fostering close relationships between their R&D, Sales and Marketing teams to meet and exceed their customers' expectations in both product offering and technology. Everlight a great variety of customers with total solutions for their different applications and is incessantly committed to satisfy the strongly growing global market for LED solutions.



About EVERLIGHT Electronics Co. Ltd.

EVERLIGHT Electronics Co., Ltd. was founded in 1983 in Taipei, Taiwan. Playing a critical role in the formation of the global LED industry, the company has rapidly become a leading worldwide supplier due to its dedication to certification, R&D, production, quality, marketing and global customer service. Everlight provides a comprehensive optoelectronics product portfolio consisting of high power LEDs, lamps, SMD LEDs, LED lighting modules, digital displays, optocouplers and infrared components for various applications. Today, Everlight is a global company with over 6,400 employees based in China, Hong Kong, Japan, Korea, Singapore, Malaysia, Germany, Sweden, U.S., and Canada. Please visit us at www.everlight.com



Company PR contact: pr@everlight.com

Agency contact: Viviane Baltzer

Baltzer Communications

Sedlmayrstr, 25, D-80694 Muenchen/Germany

T: +49 (0)89 123.92.993

E-mail: viviane.baltzer@web.de

More from Packaging Products & Equipment