Multi-Channel Radio Receiver Module is Category 1 compliant.
Press Release Summary: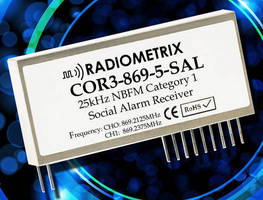 Intended for social alarm applications, COR3-869-5-SAL receiver complies with EN300-220-2 V2.3.1 (2010-02) Category 1 standard. This 32-channel receiver is available on license-exempt European 869.2-869.250 MHz sub-band for Social Alarms as well as custom frequencies between 865-870 MHz. When paired with EST3 transmitter, wireless data link with 500+ m range can be achieved. With 25 kHz channel spacing, narrowband receiver has receive sensitivity of -120 dBm typ and incorporates RSSI.
---
Original Press Release:

Radiometrix Releases Category 1 Multi-Channel Receiver for Social Alarm Applications



Leading radio module manufacturer Radiometrix has released the multi-channel COR3-869-5-SAL receiver, the first in a new range of Category 1 compliant radio receiver modules. Providing highly reliable SRD performance, the COR3 receiver complies to the new EN300-220-2 V2.3.1 (2010-02) Category 1 standard for receivers (formerly Class 1).

Available on the licence-exempt European 869.2-869.250MHz sub-band for Social Alarms and also custom frequencies between 865-870MHz, the 32-channel COR3 offers superior sensitivity, interference rejection and stability. Category 1 performance is required in Europe for short-range communication devices for social alarm applications.

When paired with the new EST3 low power transmitter, a wireless data link with a range of over 500m can be easily achieved. The 25kHz channel spacing narrowband receiver has a receive sensitivity of -120dBm typical (for 12 dB SINAD) and incorporates a wide range RSSI (Received Signal Strength Indicator).

The new range of Category 1 receivers offers developers flexibility through consistent pinouts, compatible with our existing range of SIL package radios. Various levels of multi-channel operation are possible; parallel, serial channel selection, Packet Link for Telemetry or encoder/decoder for telecommand and custom firmware.

With its compact dimensions (57 x 26 x 9mm), Category 1 compliance, CE marking and low power requirements (current consumption is typically 25mA), the COR3 is ideally suited to low power wireless applications such as nurse-call systems, monitoring and control, high-end alarms and industrial applications including heavy vehicle/machine remote controls.

For more information on the company, please visit our website:

www.radiometrix.com

Radiometrix

Real Radios For Real Applications

Established in 1985 and headquartered in London, Radiometrix is recognised as the leading global developer of narrow and wide band radio communication modules. Our diverse product range is suitable for a variety of licensed and licence-exempt ISM/SRD wireless applications, and is available worldwide through our global sales and distribution network.

Contact Radiometrix

Sales queries should be directed to the sales department sales@radiometrix.com

Radiometrix Ltd,
Hartcran House,
231 Kenton Lane,
Harrow,
Middlesex,
HA3 8RP,
UK.

Tel: +44 (0) 208-909-9595
Fax: +44 (0) 208-909-2233

More from Material Processing