Multi-Channel Analog Switch ICs handle high load voltages.
Press Release Summary: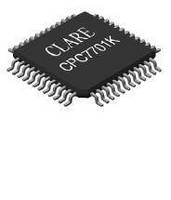 Supplied in 48-lead LQFP, CPC7601 and CPC7701 feature 16 low gate charge injection analog switches that are rated 200 V and controlled by 3 or 5 V CMOS logic signals. Input data is serially entered into 16-bit shift register and then buffered and stored in 16-bit transparent latch. Switches have flexible load voltage ranges - +40/-160, or +100/-100 V - and feature 60 dB min output-off isolation at 5 MHz. Additionally, CPC7701 features integrated bleed resistors on each switch terminal.
---
Original Press Release:

Clare Introduces New 16-Channel High Voltage Analog Switch ICs



CPC7701 and CPC7601 200V Analog Switch ICs

Beverly, Massachusetts, USA - IXYS-Clare, a division of IXYS Corporation (NASDAQ: IXYS), a recognized leader in high voltage integrated circuits, today announced the availability of the CPC7601 and the CPC7701 16-Channel High Voltage Analog Switch ICs. The CPC7601 and CPC7701 feature 16 low gate charge injection analog switches that are rated at 200V and are controlled by low voltage CMOS logic signals (3V or 5V). Input data is serially entered into a 16-bit shift register, and then buffered and stored in a 16-bit transparent latch.

These high voltage switches are constructed using Clare's proven High Voltage IC (HVIC) Silicon On Insulator (SOI) wafer process. The analog switches are capable of switching high load voltages, and have a flexible load voltage ranges (ex. +40V/-160V, or +100V/-100V), making then well suited for medical, ultrasound imaging and industrial applications. The CPC7601 and CPC7701 require very low quiescent current (less than 0.1 micro-A typical), and are specified over an extended temperature range of zero to 70 degrees Centigrade. Both parts feature 60dB minimum output-off isolation at 5MHz. The CPC7701 also features integrated bleed resistors on each switch terminal to discharge the voltage built up on capacitive loads such as piezoelectric transducers.

In the 'world of IXYS' where customers can select power semiconductors, driver IC's and MCU's, the added high voltage analog switches open new applications with one stop shopping.

These new multi-channel analog switches can be controlled by the MCUs produced by IXYS' wholly owned subsidiary, Zilog, Inc., to provide digital control in multiple applications, especially in industrial process control, test equipment, medical applications, power metering and battery power management.

Pricing and Availability
The CPC7601 and CPC7701 are available in a 48-lead LQFP package. Samples and production quantities are available. Pricing for OEM quantities of 10KU is $8.70.

For additional information, please contact your local sales representative:
http://www.clare.com/home/pages.nsf/locate.rep or info@clare.com

About IXYS-Clare
IXYS-Clare, Inc., a leader in the design and manufacture of solid-state relays and high voltage integrated circuits, is a wholly owned subsidiary of IXYS Corporation. IXYS Corporation develops and markets primarily high performance power semiconductor devices that are used in controlling and converting electrical power efficiently in power systems for the telecommunication internet infrastructure, motor drives, medical systems, Solar energy, Wind energy, electrical generators and transportation. IXYS also serves its markets with a combination of digital and analog integrated circuits, RF power products and power subsystems. Additional information about Clare and IXYS may be found at www.clare.com and www.ixys.com.

http://www.clare.com/Newsroom/2012PR/PR_Mar272012.htm

http://www.clare.com/home/pdfs.nsf/www/CPC7601.pdf/$file/CPC7601.pdf
http://www.clare.com/home/pdfs.nsf/www/CPC7701.pdf/$file/CPC7701.pdf

http://finance.yahoo.com/news/ixys-clare-introduces-16-channel-123000931.html

More from Fluid & Gas Flow Equipment