Multi-Block Thermal Cycler is designed for high-quantity PCR.
Press Release Summary: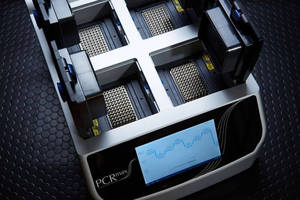 Able to perform up to 4 independent runs concurrently, Alpha Cycler 4 enhances value of each PCR run while maximizing available lab space. Temperature control and accuracy enable processing of high-quantity protocols. Configurable in any combination of 96–384 well formats across its 4 bays, system provides flexible platform for any sample scale. Quad bay design and software features overcome limitations by expediting PCR, facilitating operation, and delivering precise DNA amplification.
---
Original Press Release:

The Quad is Back: New Multi-Block Alpha Cycler 4 (PCRmax) Delivers Superior Value for High Quantity PCR



Staffordshire, UK – PCRmax (a Bibby Scientific Company) has launched the Alpha Cycler 4, the only commercially available thermal cycler to offer four totally independent blocks. Capable of performing four totally independent runs simultaneously, the Alpha Cycler 4 delivers high throughput thermal cycling within a compact instrument footprint. With the ability to process high quantity protocols, thanks to its superior temperature control and accuracy, the Alpha Cycler 4 enhances the value of each PCR run while maximising available laboratory space.



Performing high throughput PCR can be a costly and resource intensive process. The Alpha Cycler 4's innovative 'quad' bay design and smart software features overcome these limitations by expediting PCR and easing operation, while delivering precise DNA amplification. Configurable in any combination of 96 to 384 well formats across its four bays, the Alpha Cycler 4 system provides a flexible platform for any sample scale and is ideally suited to high throughput, standard throughput and multiple user environments.



Advanced software features such as 'Recently Used Programmes' allows users to quickly access their most commonly used protocols without the need to navigate through folders to find them. A novel program wizard generates protocols based specifically from users primer sequence and template source, while individual logins ensure this time-saving feature is available to multiple users and secures user protocols to their specific login should they wish. Greater connectivity and real-time monitoring with a hand-held reporting device (such as a smart phone or tablet) then enables users to track their process to ensure that data quality never suffers. Finally active sample cooling delivers sharper and minimal non-specific amplification.



The Alpha Cycler 4 is part of the PCRmax commitment to maximise the value of PCR throughout the life science arena while maintaining the highest quality amplification.



Be part of the innovation – tweet your questions to @PCRmax48 with the hashtag #AlphaCycler4 for expert advice on how to get the most from your PCR process.



For more information on the Alpha Cycler range and other PCRmax innovations visit www.pcrmax.com



About Bibby Scientific

One of four new companies established by Nova Capital from the former Barloworld Scientific business, acquired in November 2007, Bibby Scientific Limited focuses on the design, manufacture and distribution of four world-leading benchtop laboratory equipment brands: Jenway®, Stuart®, Techne® and Electrothermal®. PCR max specialising in a range of real time instrumentation, consumables and reagents is the latest portfolio to join the growing Bibby family.



All five brands are available through good laboratory distributors worldwide. Bibby Scientific Ltd has subsidiaries in the USA, France and Singapore, as well as an associated company in the Middle East.



For press information, please contact:

Phoenix MarCom Ltd.

Tel: +44(0)1480 471045; Fax: +44 (0)1480 471056; bibbyscientific@phoenixmarcom.co.uk



Please send sales enquiries to:

Bibby Scientific Ltd

Beacon Road, Stone, Staffordshire, ST15 0SA, UK

Tel: +44 (0)1785 812121; Fax: +44 (0)1785 810405; info@bibby-scientific.com



www.pcrmax.com

www.bibby-scientific.com

Related