Multi-Bit Screwdriver/Nut Driver has square recess bit.
Press Release Summary: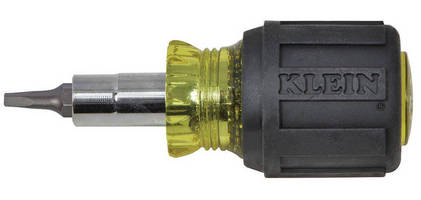 Designed for access to confined places, Stubby features 1 ¼ in. shaft and cushion-grip handle. Driver shaft holds 4 universal tips and converts to 2 nut driver sizes. Driver is made of tempered steel with torque-proof anchor in handle, and tips are manufactured with square edges to fit screw opening securely. Tips resist slippage and provide positive turning action, while nut driver function improves bit-holding power.
---
Original Press Release:

Klein Tools® Introduces the Industry's First Stubby Multi-Bit Screwdriver / Nut Driver with Square Recess Bit



One Tool with Six Different Uses for Tight Spaces

(Lincolnshire, IL) - Klein Tools, (http://www.kleintools.com/) for professionals since 1857, extends its line of multi-bit screwdrivers with the addition of the Stubby Multi-bit Screwdriver/Nut Driver with Square Recess Bit and 1-1/4" shaft for access to confined places. The versatile, compact driver shaft holds four universal tips and converts to two nut driver sizes.

With its cushion-grip handle, the stubby interchangeable screwdriver/nut driver product was designed with comfort and efficiency in mind. The driver is made of the highest-quality tempered steel with a torque-proof anchor in the handle. It's strong, durable tips are manufactured with square edges to fit screw opening securely. They resist slippage and provide positive turning action. The strong nut driver function improves bit-holding power, even with tough applications. The bits include: #1 square recess, #2 square recess, 3/16" slotted, #2 Phillips as well as ¼" and 5/16" nut drivers.

"Working in cramped spaces can be difficult," states product manager, Jon Ginsberg. "Our multi-bit stubby screwdriver/nut driver not only makes it easier with its short shaft and cushion grip but, also saves money and time by building six functions into one tool. The addition of the square recessed bit is critical for working on conduit fittings and the many other devices now using square recess style screws."

This new addition complements Klein's line of interchangeable Multi-bit Screwdrivers/Nut Drivers:

Klein's Heavy-Duty Multi-Bit Screwdriver/Nut Driver (Cat. No. 32557) holds six universal tips and easily converts to three nut driver sizes and one hex driver.

Klein's Heavy-Duty Ratcheting Multi-Bit Screwdriver/Nut Driver (Cat. No. 32558).The three-way ratcheting mechanism can be used for forward, reverse and locked positions. The shaft also holds six universal tips and easily converts to three nut driver sizes and one hex driver.

Klein's Extended-Reach Multi-Bit Screwdriver/Nut Drivers (Cat. No. 32559 and 32560) with extra-long shaft provides the full reach of a 4" standard-blade screwdriver and holds four universal tips and converts to two nut driver sizes.

Klein's Stubby Multi-Bit Screwdriver/Nut Driver (Cat. No. 32561) features a standard 1-1/4" shaft in a compact design and includes four universal tips and converts to two nut driver sizes.

For more information visit our website at www.kleintools.com or contact your local distributor.

Tina Bush
Marketing Communications Manager
450 Bond St.
Lincolnshire, IL 60069
tbush@kleintools.com
1-847-821-3318

More from Mounting & Attaching Products