Multi-Axis Cable Carriers feature fiber rod assemblies.
Press Release Summary: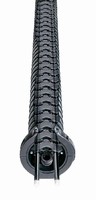 Developed to protect moving cables and hoses on 6-axis robots, Triflex® R Cable Carriers feature integral fiber rod assemblies with iglide® bearing on moving tips to optimize torsional strength and withstand extreme twisting movements. Available in enclosed and light version, Triflex system is able to move multi-dimensionally in all axes and can twist up to 380° per yard. Tubular design permits cable carrier to glide around exterior of robot without catching.
---
Original Press Release:

Improved Fiber Rod Assemblies for Multi-Axis Cable Carriers



EAST PROVIDENCE, R.I. - January 22, 2008 - igus® Inc., the industry-leading developer of plastic cable carriers, bearings and continuous-flex cables, now offers improved integral fiber rod assemblies inside its multi-axis Triflex® R robot cable carriers.
After many series of tests, igus has implemented an iglide® bearing on the moving tips of its fiber rods to increase the torsional strength. These modified fiber rod heads can better cope with the extreme, twisting movements often demanded in robotic applications at the touch of a button. The new tips are now used in all Triflex R fiber rod assemblies.

The interior support fiber rods are designed to mount a designated section of Triflex R Energy Chain® in a fixed position. This reduces torsion and creates pre-tension through this part of the cable carrier, preventing it from interfering with certain work areas around a robot.

Triflex R was developed to protect moving cables and hoses on 6-axis robots used in demanding industrial environments, such as in automotive production plants or welding applications. The cable management system is able to move multi-dimensionally in all axes and can twist up to 380 degrees per yard, enabling easy movement through complex configurations. The smooth, tubular design also permits the cable carrier to glide around the exterior of the robot without catching.

Triflex R is available in enclosed and light versions. The enclosed version fully protects cables and comes with an 'E-Z' option, which allows cables and hoses to be pressed through an opening along the length of the chain. The light design-for less demanding applications-comes in the E-Z style and is lower cost than the enclosed, or enclosed E-Z versions.

The improved fiber rod assemblies are the latest update to the Triflex R product family, which consists of nearly 100 components to cover every scenario: from big welding robots to small palletizing robots. Various sizes and accessories are available, as well as torsion-resistant robot cables from the igus Chainflex® product range, which now includes 800 cables specifically designed for moving applications.
Further information can be found at www.igus.com/triflexr.

About igus
igus Inc., founded in 1985 and based in East Providence, R.I., develops and manufactures industry-leading plastic cable carriers, continuous-flex cables, plastic bearings and linear guide systems. With more than 28,000 products available from stock, the company meets the motion control and machinery component needs of customers worldwide. Product lines include Energy Chain Systems to protect and house moving cables, Chainflex continuous-flex cables, iglide self-lubricating, oil-free, plastic bearings, DryLin® linear guide systems and igubal® spherical bearings. For more information, contact igus at (800) 521-2747 or visit www.igus.com.

igus, Triflex, iglide, Energy Chain, Chainflex, Energy Chain Systems, DryLin and igubal are registered trademarks of igus Inc.

For press inquiries:
Courtney Toomey
Marketing Specialist
ctoomey@igus.com

Nikki Groom
Marketing Specialist
ngroom@igus.com

For general inquiries:
igus Inc.
PO Box 14349
East Providence, RI 02914
Toll free: 1-800-521-2747
Tel: (401) 438-2200
Fax: (401) 438-7270
e-Mail: sales@igus.com
Web: www.igus.com

Related