Multi-Anode Tantalum Capacitors offer low ESR.
Press Release Summary: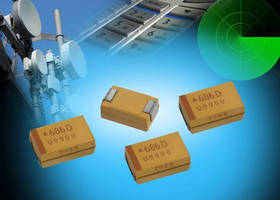 Designed to meet AEC-Q200 requirements, TPM Series of multi-anode mirror design tantalum capacitors are rated for 35 V. D sized TPM Series 47 µF/25 V part offers ESR of just 55 mW, while E case device provides min ESR of 80 mW in same footprint. Suited for automotive battery applications running on 12/14 V with low impedance, D 22 µF/35 V can be used in circuits with high current and voltage spikes where profile is limited to 3 mm.
---
Original Press Release:

AVX'S New Multi-Anode Mirror Design TPM Tantalum Capacitors Feature Lowest ESR



MYRTLE BEACH, S.C.- AVX Corporation, a leading manufacturer of advanced passive components and interconnect solutions, has expand its TPM Series of multi-anode mirror design tantalum capacitors that offer improved robustness and feature low ESR - including the industry's leading performance device.

The D sized TPM Series 47µF/25V part offers the lowest ESR in the industry - just 55mW. In comparison, a single anode part in the same package has an ESR of 100mW and the E case device (same footprint, bigger case size) provides a minimum ESR of 80mW. By reducing the ESR value by 30%, the new capacitors offer a significant improvement in filtering capability, even to the extent that one part can sometimes replace two standard single anode devices.

AVX has developed the first mirror design multi-anode parts rated at 35V. The TPM Series D 22µF/35V is suitable for use in circuits with high current and voltage spikes where the profile is limited to just 3mm. It is ideal for automotive battery applications running on 12/14V with low impedance, where it offers enhanced robustness and lower ESR than single anode capacitors. In addition, since the D and E case sizes use an identical footprint, the pad design does not need to be changed if the D-case part can be used to replace the larger capacitor. For higher operating voltages the TPM D 10µF/50V with an ESR of 140mW is also available.

All parts meet the requirements of AEC-Q200, which is a key requirement for automotive designs in Europe.

Typical pricing is set at competitive market levels with a lead time of 22 weeks.

About AVX

AVX Corporation is a leading international supplier of electronic passive components and interconnect solutions with 24 manufacturing and customer support facilities in 15 countries around the world. AVX offers a broad range of devices including capacitors, resistors, filters, timing and circuit protection devices and connectors. The company is publicly traded on the New York Stock Exchange (NYSE:AVX).

For more information, contact

AVX at 801 17th Avenue South,

Myrtle Beach, S.C. 29578;

by calling 843-448-9411,

by fax at 843-444-2864 or

on the Web at www.avx.com.

For more information, contact:

Dan Lane

Marketing Manager

843-946-0483

dan.lane@avx.com

More from Controls & Controllers