Mulitiple Process Welders improve productivity, quality, safety.
Press Release Summary: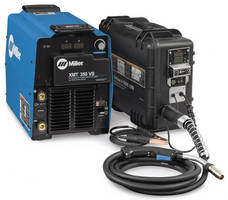 XMT® 350 WCC and XMT 450 WCC (Weld Cable Control) multiprocess welders incorporate feature that lets feeder recognize polarity and send message via weld cable to power supply, which automatically selects appropriate wire process (GMAW/FCAW) based on connection. This reduces need for welding operators to leave work area to change wire processes, promoting quality control and safety. Also, welding operators can change output voltage at point of use on jobsite.
---
Original Press Release:

Enhanced Miller XMT® Weld Cable Control Offerings Improve Jobsite Productivity, Quality and Safety



Operators can easily set optimal welding parameters at the feeder, reducing trips to power source



APPLETON, Wis. — Miller Electric Mfg. Co. has enhanced select models in the XMT® WCC (Weld Cable Control) multiprocess welder lineup to improve productivity, quality and safety by reducing trips to the power source to adjust welding parameters and making process selections.



The new improvement to the WCC system now available in both the XMT 350 WCC and the XMT 450 WCC allows the feeder to recognize polarity and send a message via the weld cable to the power supply, which automatically selects the appropriate wire process (GMAW/FCAW) based on the connection. This reduces the need for welding operators to leave the work area to change wire processes and helps improve quality control by ensuring correct process selection for the job to be done.



"This innovative technology allows operators to have more control at the feeder, so they don't have to take that walk," Ken Stanzel, product manager with Miller, said. "They can spend more time welding and less time moving around the jobsite, which improves productivity, quality and safety."



Welding operators also can change output voltage at the point of use on a jobsite with the XMT 350 WCC and the XMT 450 WCC, another feature that reduces trips to the power source.



The WCC system uses the existing weld cable to communicate from the wire feeder to the XMT, eliminating the need for control cables to the feeder. This eliminates extra cabling and allows operators to work at maximum efficiency.



Previously, welding operators could add WCC capabilities to select XMT Series machines by adding a separate, external WCC control box. Recent enhancements make those WCC capabilities an internal part of the XMT 450, adding to the convenience of the system and reducing clutter on the jobsite. The WCC capabilities were previously integrated into the XMT 350.



"We know welding operators in construction and shipbuilding may be hundreds of feet away from the power source. These enhancements improve safety by reducing opportunities for workers to trip and fall, especially if they have to go up and down ladders," Stanzel said. "Eliminating control cables to the feeder also makes a difference in safety and reduces costs for cord maintenance and repair."



A powerful solution for many jobsite applications, the XMT 450 WCC offers 450 amps at 100 percent duty cycle for Stick, TIG, MIG, Flux Cored and air carbon arc cutting and gouging. The XMT 350 WCC offers 350 amps at 60 percent duty cycle in a portable package.



For more information on the enhanced offering, visit the XMT product page via MillerWelds.com.



About Miller

Miller Electric Mfg. Co., headquartered in Appleton, Wis., is a leading worldwide manufacturer of Miller brand arc welding products and is a wholly owned subsidiary of Illinois Tool Works Inc. (NYSE: ITW).



For more information, visit Miller's website at www.MillerWelds.com, call 1-800-4-A-Miller (800-426-4553), email info@millerwelds.com, fax 877-327-8132, or write to Miller Electric Mfg. Co., P.O. Box 100, Lithonia, GA 30058.



Contact:

Erica Turner

Two Rivers Marketing

515-557-2083

ericat@2rm.com



More from Mechanical Power Transmission