Mueller Electric Releases New Electrostatic Painting Grounding Solution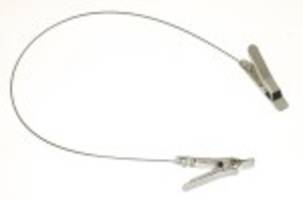 Mueller Electric has released a simple, cost effective painting grounding solution for plastic, metal and fiberglass component painting. The originator of the alligator clip developed easy to customize grounding assemblies for use in paint shops with paint coverage challenges. The grounding assemblies save on rework, scrap and paint costs.
Mueller engineers chose the painting of plastic, metal and fiberglass components as that target solution creating cost effective painting grounding. What started with a concept is now being used by major US and foreign auto makers and their component suppliers. Other industries include the appliance, building products and heavy equipment manufacturers and any product line that is coated or painted. "We make a customized, simple grounding solution that saves on scrap waste, time to execute and is simple to use as a paint application, Cliff Prosek, Mueller's General Manager said, "Our automotive customers are amazed at how simple this is and how effective a fix this is to painting components so they come out of production perfect." For more information and customized samples
Contact:
Tim Ulshafer
Mueller's Director of Sales
800-955-2629 ext. 131.
Mueller Electric Company
1208 Massillon Rd. Ste. N-1500
Akron, OH 44306-4524
Phone 330.780.2525
Fax 330.780.2524
More from Chemicals & Gases