Position Sensors / Detectors / Transducers
MTS' C-Series Sensor Offers Affordable Embedded Solution for Design Firms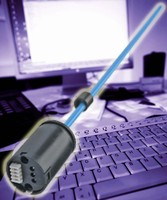 Small size, low-cost sensor adaptable for many commercial applications...

CARY, N.C (April 3, 2007) - MTS Systems Corp., Sensors Division's C-Series Core Sensor provides engineering design firms with a cost-effective magnetostrictive linear position sensor ideal for integration into light industrial and commercial product designs. Design firms serving industries such as medical devices, recreational products and professional tools are choosing the sensor for its non-contact design, high performance, low cost and ability to either embed or bolt on depending on the method that best suits the desired application.

Designed for use in higher-volume OEM products such as medical devices, small cutting/fastening/forming tools, and various consumer products, the C-Series is the smallest magnetostrictive sensor available, as well as the lowest cost sensor, making it useful for high volume projects with constrained space and budgets.

"Because the C-Series sensor can be integrated at the most basic level without the additional costs related to bolt-on products, it provides the most cost-effective solution to design firms working for larger OEMs," said Jesse Russell, commercial products marketing manager for MTS. "This embeddable design makes the end-design a more integrated product rather than a collection of assembled parts, greatly improving industrial design aesthetics."

Most recently, Devicix (Chaska, MN), a medical design firm, designed the C-Series linear sensors into a surgical tool developed by Disc Dynamics (Eden Prairie, MN), for use in a minimally invasive treatment for Degenerative Disc Disease (DDD).

"The MTS sensor is very easily integrated into a system using a linear actuator because it requires no special coupling or mounting hardware, the package size is not obtrusive, and it allows a great deal of flexibility during design," said Chris Szczech, lead electrical engineer, Devicix. "It has a standard signal interface that requires no special electronics or signal conditioning, minimizing parts count, is very reliable and stable throughout the product lifecycle, and it is also very durable, requiring no special handling during system assembly."

The C-Series' modular architecture is built upon a base Core sensor to which additional application-specific features can be added as dictated by the application. This allows design firms to eliminate costs that are unnecessary for their applications and will add to the overall margin of the end-product. The design also allows them to integrate the sensor completely into their specific product packaging. This sensor can also be curved to fit special packaging needs.

When more robust environmental protection is required by the application, the modular design of the C-Series sensor allows for the addition of standardized IP67 rated packaging that effectively houses the Core sensor. The IP67 housing also allows for a submerged measurement range for liquid-level applications when using one of two standard stainless steel floats.

The compact size, zero wear, zero recalibration and optimized cost of the C-Series Core sensor makes it an ideal choice to replace older technology sensors, such as linear potentiometers and LVDTs. The C-Series sensor brings immediate benefits to the customer, including lower costs due to the elimination of expensive signal conditioning and higher reliability due to the non-contact nature of magnetostrictive sensor technology.

The C-Series Core sensor has a 0V to 5Vdc or PWM output, and can be powered with a standard 5V power supply. In addition, the modular architecture allows the addition of a second electronics board that configures the sensor to operate using 12V power and also adds additional protection circuitry for higher EMI immunity.

The optional board was designed to optimize the C-Series sensor performance in many mobile machine applications, including agricultural, marine and construction equipment.

For more information about C-Series sensors, contact Jesse Russell, MTS Sensors Division, at 919-677-2314, jesse.russell@mts.com or via the Web at www.mtssensors.com.

About Magnetostriction
The magnetostrictive technology employed by MTS Temposonics sensors was specially suited for this application because it eliminates wear and guarantees the best durability and output repeatability. Within the sensing element, a sonic strain pulse is induced in a specially designed magnetostrictive waveguide by the momentary interaction of two magnetic fields. One field comes from a movable permanent magnet that passes along the outside of the sensor. The other field comes from an "interrogation" current pulse applied along the waveguide. The resulting strain pulse travels at ultrasonic speed along the waveguide and is detected at the head of the sensing element. The position of the magnet is determined with high precision and speed by accurately measuring the elapsed time between the application of the interrogation pulse and the arrival of the resulting strain pulse that is then converted to the desired output. Using the elapsed time to determine position of the permanent magnet provides an absolute position reading that never needs recalibration or re-homing after a power loss.

About MTS
MTS Sensors, a division of MTS Systems Corp., is the global leader in the development and production of magnetostrictive linear-position and liquid-level sensors. Based on MTS' patented Temposonics® technology, the Sensors Division is continually developing new ways to apply magnetostrictive sensing technology to solve critical applications in a variety of markets worldwide. With facilities in the U.S., Germany and Japan, MTS Sensors Division is an ISO 9001 certified supplier committed to providing innovative sensing solutions that deliver customers with reliable, cost effective sensing devices.

More from Controls & Controllers