MTD1020T OEM-Grade TEC Driver comes with internal analog filter.
Press Release Summary: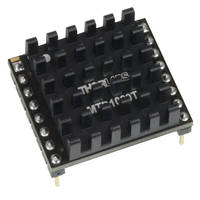 MTD1020T OEM-Grade TEC Driver can deliver output current up to ±2 A. Featuring true bipolar 20 W power stage, amplification circuit and digital PID temperature control loop, unit is embedded with digital UART/RS232-compatible programming interface. Product measures 21.0 mm x 27.0 mm x 10.3 mm dimension and is operated in a temperature range of -20 °C to 60 °C. Compatible with 10 kΩ NTC thermistors, 16-pin MTD1020T is housed in through-hole technology package.
---
Original Press Release:
Thorlabs Expands Line of OEM Temperature Controllers
Thorlabs has announced the release of a new OEM-grade TEC driver for stable temperature control, the MTD1020T. This completely integrated digital temperature controller module can provide output currents up to ±2 A and support a maximum TEC compliance voltage of 10 V. Incorporating a true bipolar 20 W power stage and digital PID temperature control loop, this controller enables high efficiency and fast, reliable temperature control. A digital UART/RS232-compatible programming interface allows quick and seamless access to the internal control settings.
The MTD1020T TEC driver supports the widely used industry-standard 10 kΩ NTC thermistors; along with the internal analog filter and amplification circuit, high precision temperature stabilization down to 10 mK is achieved over 8 hours.
Measuring just 21.0 mm x 27.0 mm x 10.3 mm (16.0 mm with the pins), the low-profile 16-pin MTD1020T controller is housed in a through-hole technology (THT) package with a topside-integrated heat sink for excellent thermal performance. The device operates in ambient temperatures ranging from -20 °C to 60 °C.
"We are excited to add the MTD1020T controller to Thorlabs' expanding line of OEM temperature controllers, which also includes our miniature temperature controllers in SMD packages," noted Frank Albrecht, the Product Line Manager for Thorlabs' OEM Temperature Controllers. "Among the many products where these OEM temperature controllers are providing temperature regulation is our own nanosecond pulsed laser systems."
Per piece pricing is available online. Upon request, Thorlabs can also deliver customized versions of this controller in high quantities, with short lead times, and packaged in production-capable IC tubes. For more information on Thorlabs' new OEM temperature controller, please visit www.thorlabs.com.
About Thorlabs: Thorlabs, a vertically integrated photonics products manufacturer, was founded in 1989 to serve the laser and electro‐optics research market. As that market has spawned a multitude of technical innovations, Thorlabs has extended its core competencies in an effort to play an ever increasing role serving the Photonics Industry at the research end, as well asthe industrial, life science, medical, and defense segments. The organization's highly integrated and diverse manufacturing assets include semiconductor fabrication of laser diodes, optical amplifiers, lithium niobate modulators, quantum cascade/interband cascade lasers, and VCSEL lasers; fiber towers for drawing glass optical fibers (silica, fluoride, tellurite, and hollow core); MBE/MOCVD epitaxial wafer growth reactors; extensive glass and metal fabrication facilities; advanced thin film deposition capabilities; and optomechanical and optoelectronic shops.
Contact:
 Laurie Morgus
Ecommerce Sales & Marketing Manager
Thorlabs, Inc.
973‐300‐3000
Robert Lang
Ecommerce Sales & Marketing
973-300-4481
More from Thermal & Heating Equipment