MT7010 Android/ARM Mobile Terminal supports OBD II and SAE J1939 protocols.
Press Release Summary: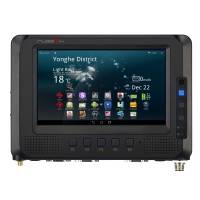 MT7010 Android/ARM Mobile Terminal is suitable for applications such as in-cab vehicle navigation, electronic logging, trip and route management, critical event reporting, and trailer and vehicle monitoring. Unit features 2 GB memory Quad Core ARM Cortex-A7 1.1 GHz CPU, built-in 16 GB eMMC and Micro SD slot for storage. This terminal supports 802.11 a/b/g/n Wi-Fi, Bluetooth 4.1, and NFC wireless connectivity. Product comes with USB sockets, RS-232, 4 Digital I/O and CAN bus interfaces.
---
Original Press Release:
RuggON Announces MT7010 Android/ARM Rugged Mobile Terminal
Supports Android 5.1, OBDII/SAE J1939, and Internal/External antenna
RuggON Corporation, a leader in the design and manufacturing of ruggedized computing products, today announces the launch of the MT7010, a new rugged mobile terminal with a large, intuitive touchscreen display and a huge variety of connectivity and communications options that make it flexible, easy to customize, and perfect for various platoon and fleet management.
This versatile mobile terminal is ideal for a diverse range of applications, including in-cab vehicle navigation, electronic logging, trip and route management, critical event reporting, and trailer and vehicle monitoring. Well designed for platoon and fleet applications, MT7010 supports various vehicle status monitor such as the OBD II standard and SAE J1939 protocol.
While the MT7010 is designed for rugged on-road fleet applications, at its heart is a familiar, high performance system: Android 5.1 running on an efficient Quad Core ARM Cortex-A7 1.1 GHz CPU, with 2GB of memory, and a built-in 16 GB eMMC and Micro SD slot for storage. This integration of perfect hardware with application vehicle and extensive support from RuggON, allows quick, flexible customization for a longer useful lifetime and reduce the cost of ownership.
Ease of use saves time and money
The 7 inch touchscreen is based on projected capacitive (PCT) technology, allowing easy use by operators wearing gloves. Five programmable function buttons around the screen can allow instant access to application-specific features. Users also have quick access to a wide range of configuration settings and vehicle systems status information via RuggON's user-friendly DashON management interface.
Unlimited communications and connectivity
Wireless and wired communications, connectivity and navigation options are almost unlimited, allow for internal and external antenna, and include mobile/cellular, local and short range wireless.
MT7010 supports a variety of telecommunication standards including LTE Band Cat 4, WCDMA, and HSPA+, with a dual micro SIM slot. To support autonomous border crossing or fast stopping at mandatory checkpoints, MT7010 offers a variety of wireless connectivity with 802.11 a/b/g/n Wi-Fi, Bluetooth 4.1, and NFC (Near Field Communication) to ensure that the driver passes through efficiently.
For the various sorts of demands of vehicle wired connectivity, MT7010 comes with Gigabit Ethernet networking, as well as a wealth of I/O features for various demand of wired connectivity, such as two USB sockets (one USB 3.0, plus one USB 2.0), powered RS-232 plus a separate RS-232/422/485 socket, 4 Digital I/O and CAN bus for vehicle systems monitoring and control via SAE J1939.
Full GNSS (GPS, GLONASS and BeiDou) is available for location services and navigation, and the device includes dead reckoning support and a 3-axis G sensor.
Rugged and reliable
RuggON has years of experience in rugged mobile computing devices, dedicates on making the devices tough but light weighted. The impenetrable ruggedness and durability allows MT7010 with a wide operating temperature from -30°C to 60°C while meeting the standards of MIL-STD-810G for vibration and shock while operating, along with provides IP65 protection.
Wide range of accessories
Essentials, such as, a power cable and GPS / GLONASS antenna, are supplied in the box. Other optional accessories include a versatile mounting kit, WWAN Antenna, Wi-Fi / Bluetooth Antenna, DB15 to USB cable, and DB15 to DIO / CAN bus cable assemblies and power adapter kit for in-house test.
Read more about RuggON's MT7010 – the ultimate in tough, reliable in-vehicle terminal computers – as well as other products from RuggON, the rugged computer specialists, here: https://www.ruggon.com/en/product/vehicle-mounted/MT7010#filter.
About RuggON
We never stop searching for inventive ways to meet the various integration and expansion demands of our customers. RuggON specializes in robust rugged mobile solutions that are highly competitive, with exceptional technical expertise. With a dedicated support and service team, we provide great flexibility and value to fulfill customer's specific needs in vertical markets. Our relentless pursuit and passion for ground-breaking innovation, coupled with extensive industry knowledge bring superb MIT (Made in Taiwan) quality and reliability.
We strive to continuously exceed the expectations of clients, with a quick response that empowers RuggON to inspire and reinvent to meet market demands leading towards long-term success.
More from Electrical Equipment & Systems