MRI Systems feature total imaging matrix technology.
Press Release Summary: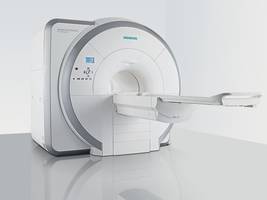 Measuring 145 cm long with 1.5 Tesla magnetic field strength, MAGNETOM® Essenza helps smaller healthcare facilities offer range of imaging services. Magnet has zero helium boil-off so there is no need to regularly refill cooling substance. With system length of 173 cm, MAGNETOM Verio combines 3 T field strength and 70 cm open bore for patient comfort. Both systems offer Tim(TM) technology, which eliminates need for patient repositioning and manual coil changes during scans.
---
Original Press Release:
A Magnetic Presence: Siemens New MRI Systems Pulling More Patients Toward the Benefits of MR Imaging
Siemens New MRI Systems Set Trends Again: MAGNETOM Verio Brings High- Resolution MRI to More Patients than Ever Before and MAGNETOM Essenza Delivers the Newest Technology at the Most Affordable Price MALVERN, Pa., Nov. 20 /-- Siemens Medical Solutions (www.usa.siemens.com/medical) is once again paving the way to increased access to essential imaging services with the introduction of two new magnetic resonance imaging (MRI) systems. At a 1.5 Tesla (T) magnetic field strength, the MAGNETOM(R) Essenza is the most affordable*, all-new MRI system on the market today. It was designed from the ground up to deliver high-field imaging at a low purchase price with similarly low installation and operational costs, compared with traditional MRI systems. The Essenza helps smaller healthcare facilities offer a new range of imaging services that were previously unavailable. Siemens new MAGNETOM Verio combines excellent image quality at 3T field strength and a 70-cm open bore that offers exceptional patient comfort in one solution. Additionally, the Verio increases access to high-field imaging services for patients who previously could not be imaged, like patients who are obese (up to 550 lbs.) or claustrophobic. Both of these systems offer Siemens unique Tim(TM) (Total imaging matrix) technology, which eliminates the need for patient repositioning and manual coil changes during scans, while significantly enhancing image quality. Tim technology can help MRI departments achieve advanced clinical and workflow capabilities. Siemens will showcase these new systems along with a host of other MRI innovations at the 93rd Scientific Assembly and Annual Meeting of the Radiological Society of North America (RSNA) from November 25 to 30 in Chicago (Booth #7713, Hall B). "Siemens is helping to break down barriers and opening up access to MR imaging," said Walter Marzendorfer, president, Siemens Medical Solutions, MR Division. "Our technologies provide solutions for providers and patients that address everything from workflow improvement to the cost of technology to medical conditions that previously hindered MR imaging for those who needed it most." MAGNETOM Essenza, the Most Affordable, All-New 1.5T MRI Siemens recently introduced the groundbreaking 1.5T MAGNETOM Essenza, an MRI system that can be as much as $500,000 less than other, new 1.5T systems.* The system offers innovative technologies that support a facility's clinical and financial success. In addition to the low initial investment, savings of up to 25 percent can also be attained on installation costs for space, power requirements and construction.* In part, this is due to the magnet's light weight of only 3.5 tons. This gives a facility more installation options as the magnet can be installed on higher floors. Furthermore, the MAGNETOM Essenza has a short length of only 145 cm, which is the second shortest system length offered by Siemens. If the system is replacing an existing MRI, it can reduce energy consumption by up to 50 percent thanks to its high-performance electronics.* The magnet also has zero helium boil-off so there is no need to regularly refill the expensive cooling substance, and the system is always ready for operation. With powerful 30 mT/m gradients, the Essenza delivers excellent image quality for all clinical applications. Another innovation on the Essenza is the IsoCenter Matrix coil, which is installed at the center of the magnet, so it is always in the correct position, providing a simple workflow solution that leads to outstanding image quality. In October, Siemens opened voting for a national contest at www.winanmri.com. The program invites healthcare facilities with 180 beds or less that currently do not have a fixed MRI system to display their creativity and dedication to patient care by stating a two-minute case in short videos that prove why they should receive a free, new Essenza MRI from Siemens. Individuals from across the country can view the videos on the Web site and choose which facility they believe is most deserving of the MRI system. The facility whose video receives the most votes will be awarded a brand new MAGNETOM Essenza. Voting for this contest will close on Dec. 31, with the winner being announced in mid January. MAGNETOM Verio and the Industry's Most Exciting Equation 3T + 70 cm + Tim Siemens also introduced the MAGNEOTM Verio, the world's first 3T MRI with a 70-cm open bore. Siemens is still the only company to offer open bore technology at 1.5T and now introduces that imaging strength at 3T. This configuration leads to improved patient comfort, better workflow and reduced costs in high-end MR imaging for the diagnosis of challenging diseases. The Verio represents a complete new class of MRI technology that delivers high-field diagnostic imaging to patients who typically have not had access to MR imaging. Due to the system's 70-cm bore diameter, the average distance between a patient's eyes and the magnet is 30 cm, greatly alleviating concerns of claustrophobia in many patients. In addition, the wider space makes it possible to scan patients who could not be examined with the MRI system in the past, including those suffering from kyphosis (limited mobility) or those who are in pain, as well as pediatric and obese patients up to 550 pounds, those who are dependent on medical devices, those who are in intensive care, and those having to undergo intraoperative procedures. With a system length of only 173 cm, the MAGNETOM Verio is currently the shortest 3T MRI system on the market worldwide, while having the footprint of a 1.5T MRI system. Furthermore, it is equipped with a light magnet of six tons, compared to other 3T systems. Thanks to the system's smaller dimensions and lower weight, the installation costs for the MAGNETOM Verio are minimized and the system also uses a zero helium boil-off technology. With Tim technology, coil setup for procedures on the Verio is easy and fast, and acquisition times are significantly reduced. Up to 102 seamlessly integrated matrix coil elements and up to 32 independent radio frequency channels combine to enable advanced clinical applications on the MAGNETOM Verio, which can quickly and reliably allow physicians to evaluate complex pathologies. Even advanced applications can be performed as part of the daily routine, like syngo(R) DTI (Diffusion Tensor Imaging), which provides complete 3D views of neuronal fibers just by pressing a few buttons. The MAGNETOM Verio is available in a T-class configuration for shorter order-to-report turnaround time and a seamless workflow, and it is available in an I-class configuration that is capable of performing Siemens most advanced applications. Continuous Table Move Scanning with syngo TimCT Orders for syngo TimCT have grown significantly since its general availability in July 2007. syngo TimCT is available exclusively on Siemens' T- class systems at 1.5T (MAGNETOM Avanto, Espree and Symphony) and at 3T (MAGNETOM Trio and Verio). The revolutionary syngo TimCT application allows physicians to acquire one complete planning scan, or peripheral angiography, in a single, continuous move. With syngo TimCT, the table is not required to stay in a fixed position to acquire images. Instead the table moves continuously as it does during a computed tomography (CT) scan, while Tim enables the signal to be acquired simultaneously. The results are significant speed-ups of workflow, increased image quality and the ability to perform new applications. "Workflow has been greatly simplified. Previously, we needed up to twelve work steps from patient positioning on the MRI table to data acquisition, but today we only need six," said Jorg Barkhausen, M.D., assistant medical director and acting head, University Hospital Essen, Germany. "This saves time and also reduces costs while increasing diagnostic safety. At the same time, syngo TimCT improves the image quality as the body region just being scanned is in the center of the magnet." Advances in MRI Breast Spectroscopy A recent study published in Radiology found that proton MRI spectroscopy may eliminate 68 percent of biopsies for benign non-mass breast lesions found on standard MRI exams without missing any cancers.(1) Siemens' solution for quantitative MRI breast spectroscopy, syngo GRACE, allows physicians to obtain essential metabolic information about the biochemical composition of breast lesions. This additional information helps physicians better distinguish between malignant and benign lesions to potentially reduce the risk of unnecessary breast biopsies. Using choline as a biomarker, syngo GRACE provides improved differential diagnosis and enhanced confidence in therapy monitoring. About Siemens Medical Solutions Siemens Medical Solutions is one of the world's largest suppliers to the healthcare industry. The company is a renowned medical solutions provider with core competence and innovative strength in diagnostic and therapeutic technologies as well as in knowledge engineering, including information technology and system integration. With its laboratory diagnostics acquisitions, Siemens Medical Solutions will be the first fully integrated diagnostics company, bringing together imaging and lab diagnostics, therapy, and healthcare information technology solutions, supplemented by consulting and support services. The company delivers solutions across the entire continuum of care - from prevention and early detection, to diagnosis, therapy and care. Siemens Medical Solutions employs more than 48,000 people worldwide and operates in 130 countries. According to U.S. GAAP, in the fiscal year 2007 (Sept. 30), Siemens Medical Solutions reported sales of Euro 9.85 billion, orders of Euro 10.27 billion, and group profit of Euro 1.32 billion (preliminary figures, unaudited). Further information can be found by visiting www.siemens.com/medical. * Results may vary. Data on file. (1) Bartella L, et al "Enhancing Nonmass Lesions in the Breast: Evaluation with Proton (1H) MR Spectroscopy" Radiology 2007; 245: 80-87. CONTACT: Mark Palacio of Siemens AG, +1-610-448-1477, mark.palacio@siemens.com Web site: www.siemens.com/medical www.winanmri.com/ http://rsna2007.rsna.org/rsna2007/V2007/index.cvn
More from HVAC