MR HH600 VHF Radio comes with floating orange core.
Press Release Summary: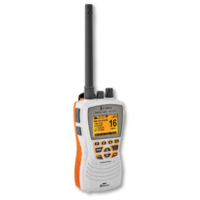 Equipped with Bluetooth® wireless technology, MR HH600 VHF Radio comes with built-in GPS and digital selective calling options. Featuring weather alert, water-activated emergency strobe, Rewind-Say-Again®, flashlight and S.O.S. signal, unit offers 1, 3 and 6 watts of power options. Available in black or white versions, product meets JIS8 standards.
---
Original Press Release:
Cobra Electronics Launches its First Handheld VHF Radio with GPS and Digital Selective Calling (DSC)
MR HH600 automatically sends GPS location with DSC calls in case of an emergency.
Cobra Electronics, the leading designer and marketer of award-winning automotive, mobile and consumer electronics, today announced the availability of the new CobraMarine® Floating Handheld VHF Radio with GPS and Digital Selective Calling (DSC). The MR HH600 is Cobra's first handheld radio that automatically transmits your GPS location with DSC to notify the Coast Guard or other vessels of your exact position in case of emergency.
This life saving radio also features a floating orange core so it's easy to see in water and has a built-in flashlight and water-activated emergency strobe along with Weather Alert and instant access to all NOAA weather channels.
Additional features of the CobraMarine MR HH600 include:
Bluetooth® Wireless Technology | Make and receive phone calls through radio keeping your cell phone safe and dry.
Rewind-Say-Again® | Replay the last 20 seconds of missed VHF calls.
6 Watt VHF | Select between 1, 3 and 6 Watts of power for both short and long range communication.
Flashlight / S.O.S. Light | Multi-purpose flashlight and S.O.S. signal that automatically flashes when dropped in the water.
MOB (Man Over Board) I Dedicated MOB key marks and memorizes position information if a crew member falls overboard.
Submersible l Meets JIS8 (IPX8) standards; submersible for 30 minutes in more than one meter deep water
"As the leader in handheld VHF marine radios, we have a responsibility to provide boaters with the latest in radio communication," said Bill Boudreau, General Manager – Core Products for Cedar Electronics. "With the MR HH600, and its built-in GPS, we are bringing the latest lifesaving technology to more people at an affordable price."
The MR HH600 VHF Radio is available now on Cobra.com in black or white versions for a retail price of $229.95.
About Cobra Electronics
Cobra Electronics is a major brand of Cedar Electronics, a leading global supplier of marine, mobile and consumer products. Cedar Electronics possesses a strong brand portfolio including ESCORT Radar, Cobra Electronics & WASPcam. Leveraging its leadership position in the radar detector and Citizens Band radio categories, Cobra Electronics has aggressively grown both domestically and internationally with an ever-expanding family of automotive products that include dash cams, power inverters, portable jump starters, and more. Cobra Electronics has sales and marketing operations in North America, South America, Europe and China. To learn more please visit www.cobra.com.
Contacts:
Chris Kooistra
Escort Inc.
Cobra Electronics
WASPcam
(773) 972-0691
Email: ckooistra@cedarelectronics.com
Web Site: http://www.cedarelectronics.com
More from Electronic Components & Devices