MR Conditional Pacing Lead is smallest available in USA.
Press Release Summary: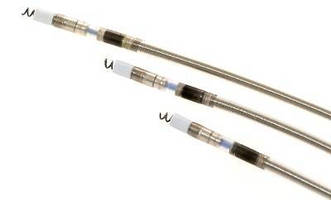 Featuring FDA approval, Solia S ProMRI® is available with 5.6 French lead body and in 45, 53, and 60 cm lengths. Polyurethane coating over silicone, designed to reduce friction, facilitates introduction through small vessels and complex anatomy, while soft distal segment helps reduce stress and minimize myocardial trauma.
---
Original Press Release:

BIOTRONIK Launches Smallest MR Conditional Pacing Lead Available in the United States



Nearly 600,000 Solia Family Leads Implanted Worldwide since 2009



LAKE OSWEGO, Ore. -- BIOTRONIK announced today the commercial launch of Solia S ProMRI(®), with a 5.6 French lead body, the smallest MR conditional pacing lead available in the United States. Solia S ProMRI is available in 45, 53 and 60 centimeter lengths.



Solia received Food and Drug Administration (FDA) approval on June 9, 2016 based on data collected during the Pre-Market Study (IDE) phase of the SIELLO clinical study. All Pre-Market Study primary safety and efficacy endpoints were met with statistical significance:



--  Primary endpoint one: 100 percent 12-month event-free rate for patients with an atrial Solia lead

--  Primary endpoint two: 99.6 percent 12-month adverse event-free rate for patients with a ventricular Solia lead

--  Primary endpoint three: 100 percent rate of successful sensing and pacing at 12 months for patients with one or twoSolia leads



The SIELLO clinical study enrolled 1,758 patients at 60 US sites with 3,220 implanted Solia leads.



"BIOTRONIK has a long-standing history of providing reliable leads without recall. Nearly 600,000 BIOTRONIK leads of this product family have been implanted worldwide. We've built a reputation that physicians can trust," said Marlou Janssen, President, BIOTRONIK, Inc. "We invest significantly in innovation, but never at the expense of safety or reliability. BIOTRONIK enrolls more patients in lead studies than any other global CRM device company. We make this investment because physicians and patients deserve that level of confidence."



With a polyurethane coating over silicone designed to reduce friction, Solia enables easier introduction through small vessels and complex anatomy. Solia's soft distal segment is designed to help reduce stress and minimize myocardial trauma.



"Because there is a wide range of patient anatomy types, it is necessary to have various lead lengths to ensure the best outcomes. There have been, however, limitations in the variety of leads available, so this new technology will offer a more versatile lead and improve procedures," said Ulrika Birgersdotter-Green, MD, director of pacemaker and ICD services at UC San Diego Health and professor of medicine at University of California, San Diego School of Medicine.



About ProMRI

BIOTRONIK ProMRI technology enables patients with a pacemaker, implantable defibrillator, cardiac monitor, or cardiac resynchronization therapy defibrillator (CRT-D) to undergo an MRI scan. BIOTRONIK has the broadest portfolio of cardiac devices approved for use in the MR environment on the market. For more details, please go to www.biotronik.com/promri.



About BIOTRONIK

A global leader in cardio- and endovascular medical technology, BIOTRONIK is headquartered in Berlin, Germany, and represented in over 100 countries. Several million patients have received BIOTRONIK implants designed to save and improve the quality of their lives, or have been treated with BIOTRONIK coronary and peripheral vascular intervention products. Since its development of the first German pacemaker in 1963, BIOTRONIK has engineered many innovations, including BIOTRONIK Home Monitoring(®); Pulsar*, the world's first 4 F compatible stent for treating long lesions; Orsiro*, the industry's first hybrid drug-eluting stent; and the world's first implantable cardioverter defibrillators and heart failure therapy devices with ProMRI(®) technology.



* Investigational Device: Limited by US law to investigational use.



For more information, visit: www.biotronikusa.com



Twitter: @biotronik_US



Facebook: www.facebook.com/BiotronikUS/



LinkedIn: www.linkedin.com/company/biotronik



CONTACT: U.S. Media Contacts - Lindsey Stephens, Manager, Marketing Communications, (800) 547-0394, Ext. 8210, (503) 451-8210, lindsey.stephens@biotronik.com; or Stacey Holifield, Levitate, (617) 233-3873, stacey@levitatenow.com

More from Software