MPA-L Valve Manifold Highly Scalable Valve Manifold for Value and Performance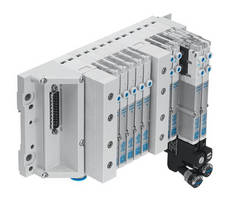 HAUPPAUGE, NY, - The Festo MPA-L valve manifold offers a perfect mix of value and performance. It is scalable down to a single valve slice, so directional valves can be adapted to any application. This saves costs and reduces size.

The sub-base is made from a rugged polymer design that offers good corrosion resistance and light weight. The valves are electrically connected to an internal printed circuit board, which provides exact coil allocation with no wasted connections. A host of electric multi-pin connector options are available, as well as network interfaces to most common industrial and Ethernet protocols, via Festo's CPX distributed I/O family.

All standard valve functions are available. These include 5/2, 5/3, and the cost/space saving dual 3/2 types. All valves use Festo's patented cartridge principle, which has proved extremely durable, and offers outstanding flow rates. There are well over 10 million valves with this technology in service.

The manifold is suited for most pneumatic applications for discrete and process automation. The high flow rate to size ratio makes for universal applications from food and beverage packaging to semiconductor fabrication. The valve can run pressure and vacuum, with multiple zones. Key features include:

o Up to 32 valve locations, max flow rate to 360 Nl/min

o Inch and Metric ports for all markets

o Full range of pneumatic functions and accessories such as pressure regulators D-sub, IDC / Ribbon cable connectors, bus networks, and Ethernet connections

For sales information call Festo at 800-993-3786 and visit http://www.festo.com/us.

More from Electrical Equipment & Systems