MP3 Device provides message-on-demand.
Press Release Summary: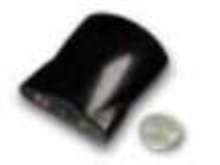 Multi-functional Model DAD10 is an MP3 message/music on hold device for connection to PABX systems or standalone audio message delivery. It provides stereo output of 2 W into 4 ohms, and consumes 70 mA from 8-15 V supply with no speaker load. Unit stores up to 8 Mb of MP3 data and supports bit rates of 8-192 kb/s. Data can be split into max of 16 tracks and, depending on audio quality required, can have playback times from 8 min to 2 hr.
---
Original Press Release:

DAD10 - versatile MP3 Digital Message-on-demand


Pittsford, NY. DAD10 is an MP3 message/music on hold device for connection to PABX systems or standalone audio message delivery. Remotely programmable and updateable, DAD10 is ideally suited to 'Message on Hold' service providers as it obviates the on-going costs of printing and distributing update tapes or CDs. Small businesses can also benefit from using DAD10 for their own promotional messages to callers.

DAD10 is a multi-functional device that can be used as a message on hold device or used in conjunction with other accessories for Audio on Demand. You can remotely control and update the audio message currently on a PABX system with minimal disturbance. Stereo output is 2W into 4 ohms, but consumes only 70mA from an 8 - 15V supply with no speaker load.

DAD10 Standalone Digital MP3 Player.
o 8Mb Memory (8 m to 2 hrs playback depending on playback quality)
o Supports sampling rates from 8 to 192 Kbps
o Stereo or Mono
o 16 Track support
o Non Volatile Memory
o Different triggering options
o Various playback modes
o Remotely controlled and updated
o Transfer/Remote Manager Software provided

Applications:
DAD 10 can be used as a message on hold device for PABX systems, or as an Audio on Demand device for use in galleries, retail window displays, Point-of-Sale displays or any other application that requires a triggered audio message. Only 25mm x 80mm x 62mm and housed in an attractive plastic housing, DAD10 can be placed almost anywhere. DAD10 stores up to 8MB (8192kB) of MP3 data and supports bit rates of 8kb/s to 192kb/s as well as all Variable bit rates up to 192kb/s. The MP3 data can be split into a maximum of 16 tracks and, depending on the audio quality required, can have playback times from 8 minutes to 2 hours. DAD10 can be configured for 3 different update methods: email (remote); FTP (remote); or PC connection (local). New messages can be downloaded and updated automatically at predefined scheduled times. Up to 16 push buttons can be connected with each button being able to play a separate message.

DAD10 is available from stock at $299.00 each from Saelig Co. Inc. Pittsford, NY. info@saelig.com

More: Alan Lowne, 585 385-1750; fax -1768 Saelig Co. Inc, 1160-D2 Pittsford-Victor Rd. Pittsford, NY 14534 USA. info@saelig.com

Missy Wynkoop
Saelig Company, Inc.
1160-D2 Pittsford-Victor Road
Pittsford, NY 14534
585-385-1750
585-385-1768 (fax)
www.saelig.com

see our newest products at saelig.com/seeour.htm

More from Communication Systems & Equipment