MP2050 Insert Grade is suitable for aerospace applications.
Press Release Summary: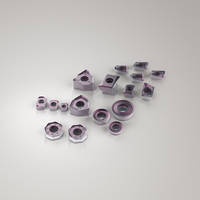 MP2050 Insert Grade is available in sizes 10, 12, 16 and 20 mm. Unit is used for milling materials such as titanium, austenitic and martensitic stainless steels. Product is offered in Highfeed, square shoulder configurations for Seco's Turbo, Square 6™ and Square T4.
---
Original Press Release:
Seco MP2050 Insert Grade Conquers Strong, Heat-Resistant Materials
Seco now offers the MP2050 insert grade with an optimized balance of toughness and wear resistance to efficiently machine high-strength, heat-resistant materials. Originally developed specifically for turbine blade machining in the power generation industry segment, the new grade also excels in aerospace applications and offers exceptional performance in milling materials such as austenitic and martensitic stainless steels, as well as titanium.
A completely new substrate and a post treatment applied to its coating enhances MP2050's capabilities to handle high heat in the cutting zone and to effectively prevent chip adhesion and cutting edge build up for high process stability and predictability. The combined substrate reliability and wear resistance in the coating overcomes unstable machining conditions such as those involving interrupted cuts, long tool overhangs and weak fixturing. Additionally, the grade reduces tool costs through longer tool life and allows cutting parameters to be increased, especially in dry machining conditions.
The MP2050 grade range includes round inserts in sizes 10, 12, 16 and 20 mm. High-feed inserts, square shoulder inserts for Seco's Turbo, Square 6™ and Square T4, and face milling inserts for its Double Octomill™ are also available.
For more information on MP2050, please contact a local Seco representative or visit www.secotools.com/ - article/83049.
About Seco Tools, LLC
Seco Tools, LLC is a leading provider of metalcutting solutions for milling, turning, holemaking and toolholding. The company prides itself on building close relationships with customers to effectively understand and address their needs. For more information on the company's products and services, please contact Bob Heery, Seco Tools, LLC, 2805 Bellingham Drive, Troy, Michigan, Tel: 248.528.5451, Email: bob.heery@secotools.com, visit www.secotools.com
More from Non-Industrial Products