Moyno® 500 Grinder Pumps Offer Superior Solids Reduction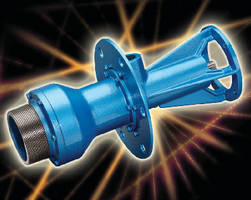 Springfield, Ohio - Moyno® 500 Grinder Pumps from Moyno, Inc., feature compact, lightweight designs that combine an efficient solids reduction unit with a high performance progressing cavity pump.

Ideal for marine septic systems, environmental clean up, marine oil spills, industrial wastes and raw sewage transfer, Moyno 500 Grinder Pumps offer a variety of innovative design characteristics. The replaceable carbide tips on the cast iron cutter disc rotate against a stationary, hardened tool-steel cutter ring. Stringy fibers and other debris are reduced to regular particle sizes which prevent ragging and blockages in downstream process equipment. Moyno 500 Grinder Pumps include a molded, elastomeric wobble stator that increases the compression fit with the rotor for superior volumetric efficiency.

Additional features of Moyno 500 Grinder Pumps include:

o Flow rates to 15 gpm

o Discharge pressures to 100 psi

o Prelubricated, fully sealed ball bearings

o Carbon/ceramic mechanical seal

o NPT suction and discharge ports

o ANSI compatible tank mounting flange

Moyno, Inc., a unit of Robbins & Myers, Inc., is a leading manufacturer of Moyno® progressing cavity pumps, sludge pumps, metering pumps, sanitary pumps, mag-drive pumps, multiphase fluid transfer systems and grinders. Its worldwide multi-million dollar stocking distribution network serves a wide range of industries, including water and wastewater treatment, oil and gas, pulp and paper, specialty chemicals, pharmaceuticals, food and beverage, biofuels, mining, and petrochemical.


More from Electrical Equipment & Systems