Moxa Wins International Red Dot Award for Excellence in Product Design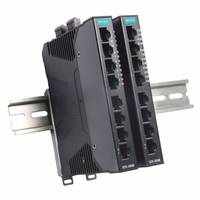 BREA, CA, AUGUST 14, 2018 -- Moxa has cemented its reputation for the highest design standards by having its SDS-3008 Smart Ethernet Switch honored with a "Red Dot Award: Product Design 2018" - one of the most prestigious international design recognitions in the world. 
The design competition is organized by Design Zentrum Nordrhein-Westfalen in Germany and honors the best products of the year. This year, Moxa competed with over 6,300 entries produced by designers and manufacturers from 59 countries. A jury of 40 experts assessed the submissions based on criteria such as degree of innovation, functionality, ergonomics, longevity and ecological compatibility. 
"The Moxa Ethernet switch SDS-3008 captivates with its functional and structurally sophisticated design, ensuring a high degree of flexibility," wrote the Red Dot awards jury. The award underscores that the user-oriented design of the SDS-3008 Smart Ethernet Switch is the ideal solution for IA engineers and automation machine builders to make their networks compatible with Industry 4.0. 
The Best Fit for Factory Automation
The Moxa SDS-3008 Smart Ethernet Switch simplifies daily tasks with its quick installation and easy configuration. In addition, it is monitorable and easy to maintain throughout the entire product lifecycle. 
Moxa used extensive market research to design the SDS-3008, probing the market to uncover customers' switch challenges and preferences. For example, the company discovered that when a network upgrade is required, the two most common concerns for engineers are the limited space available in cabinets, along with the long hours required to learn how to properly manage the switch. 
According to Jack Lin, Product Manager of Moxa's Industrial Ethernet Infrastructure Division, "The SDS-3008 smart switch's 3-2-1 design supports the functions needed by IA engineers and automation machine builders, but does not require them to have IT-based network management skills. We believe the smart switch is an ideal solution for the manufacturing industry, in particular machine builders who are moving towards the IIoT and industry 4.0. Although we are delighted with the Red Dot award, it is the positive feedback we have received from our customers that really lets us know how helpful our switches are for the automation industry."
Smart Switch 3-2-1 Design
Three protocols in one device
Smart switches support EtherNet/IP, PROFINET, and Modbus/TCP industrial protocols, and the configuration can be done in one click via the smart UI.
Two centimeters wide with DIN-rail and rack-mounting options
Moxa's smart switches have a compact size that allows them to fit in almost any control cabinet, and they support both DIN-rail and rackmount installation.
One-page dashboard
The SDS-3800 Series has a smart UI that features a graphical function menu and one-page dashboard, making it easier for users to clearly visualize the status and operate the switch.
Visit the SDS-3008 product page: http://www.moxa.com/product/SDS-3008.htm
Click here to download high resolution image.
ABOUT MOXA
Moxa is a leading provider of edge connectivity, industrial computing, and network infrastructure solutions for enabling connectivity for the Industrial Internet of Things. With over 30 years of industry experience, Moxa has connected more than 50 million devices worldwide and has a distribution and service network that reaches customers in more than 70 countries. Moxa delivers lasting business value by empowering industry with reliable networks and sincere service for industrial communications infrastructures. Information about Moxa's solutions is available at www.moxa.com.
More from Material Handling & Storage