MouseOx® Plus Pulse Oximeter for Rodents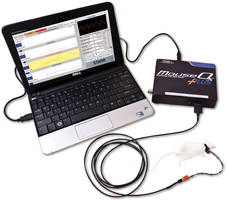 The MouseOx® Plus Pulse Oximeter for rodents is a non-invasive pulse oximeter which provides real-time, continuous monitoring of oxygen saturation. This system can be used with either anesthetized or conscious animals.
An array of sensors are available making this system appropriate for rodents sized from neonatal mice to adult rats. The MouseOx® Plus Pulse Oximeter has a patented design which enables it to detect heart rates of 90-900 bpm. A number of options are available allowing for a highly customizable system.
The MouseOx provides the following measurements:
Arterial Oxygen Saturation
Heart Rate
Temperature (optional)
Pulse Distention
Breath Distention
Harvard Apparatus is a global developer, manufacturer, and distributor of innovative and specialized products to enhance bioresearch.