Mounting Plate Kits install PCBs in rackmount enclosures.
Press Release Summary: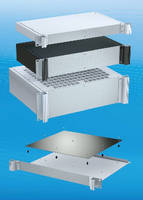 Available for COMBIMETÂ 19 in. rackmount enclosures, internal Mounting Plate Kits enable multiple PCBs to be installed. Plates are manufactured from aluminum and come in 2 sizes: 13.18 x 9.05 x 0.06 in. and 13.18 x 12.99 x 0.06 in. Each plate is pre-drilled with 9 countersunk holes as standard, and each kit includes 9 nylon screw pillars and 10 screws. Vented, unvented, and open rack cases are suited for networking equipment, industrial computers, laboratory instruments, and control technology.
---
Original Press Release:
New Mounting Plate Kits For METCASE Rack Mount Enclosures
METCASE COMBIMET mounting plate kits are available in two sizes and can be customized

Mounting plate kits are now available for METCASE's bestselling COMBIMET range of 19" rack mount enclosures.

COMBIMET is a high quality range of vented, unvented and open rack cases for networking and communications equipment, industrial computers, sound and studio systems, laboratory instruments and control technology.

The new internal mounting plate kits enable multiple PCBS to be installed in the rack cases. They offer improved stability and – on vented versions – superior cooling.

Mounting plates are manufactured from aluminum and are available in two sizes: 13.18" x 9.05" x 0.06" and 13.18" x 12.99" x 0.06". Each kit includes nine nylon screw pillars (M3 x 10 mm) and 10 screws (M3 x 6 mm CSK).

Each plate is pre-drilled with nine countersunk holes as standard. They can also be specified pre-drilled ready for components and also CNC machined with ventilation holes to improve cooling still further. Prices start at $23.

Other accessories include PCB mounting pillar kits and rack mounting screw kits. COMBIMET's distinctive handles (which come as standard on the cases) can also be specified as accessories for other METCASE and non-METCASE rack mount enclosures.

Customizing services include printing of legends, logos and branding. METCASE recently launched a new digital printing service – enabling front panels and complete enclosures to be printed with photo quality designs more quickly and cost effectively than was previously possible with traditional methods.

METCASE's customization services also include bespoke sizes and colors; CNC milling, drilling, punching and folding; painting and anodizing.

More information can be found on the METCASE website at www.metcaseusa.com

More info:
Direct web link: http://metcaseusa.com/enclosures/combimet19.htm
Datasheet link: http://metcaseusa.com/drawings/metcase/cat-pdfs/combimet19.pdf (paste into browser)

Contact: Sean Bailey
E-mail: seanb@okwenclosures.com
 
More from Architectural & Civil Engineering Products