Mounting Capacitors feature low temperature coefficients.
Press Release Summary: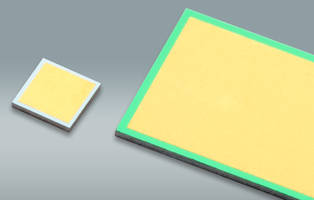 Available in 20 x 40 mils to 127 x 145 mils standard chip sizes with six capacitances ranging from 45 pF to 1000 pF, Mounting Capacitors have 50 VDC to 200 VDC withstanding voltage. Accommodating any FET and MMIC device, units feature gold contacts on both sides. Suitable for applications requiring DC protection, RF bypassing, oscillators and filters, capacitors are developed using MNOS approach and precision photolithography.
---
Original Press Release:
45 pF to 1000 pF Mounting Capacitors with Very High Q and Class K Qualified for Space
SemiGen, Inc. (www.semigen.net), an ISO and ITAR registered RF/Microwave assembly, automated PCB manufacturing, and RF Supply Center, now offers a series of mounting capacitors that can be screen to class K quality requirements for space.
SemiGen's ideal low loss very high Q mounting capacitors feature low temperature coefficients. With six different capacitances offered from 45 pF to 1000 pF, these capacitors are developed using an MNOS approach and precision photolithography to provide a dependable device. SemiGen's mounting capacitors are manufactured on dies as thin as 3 mils to limit inductance. These mounting capacitors have a withstanding voltage of at least 50 VDC up to 200 VDC, long-term stability, and gold contacts on the front and back with thermal and mechanical properties that allow the device to be mounted with optimum matching.
Mounting capacitors are ideally suited for applications that require DC protection, RF bypassing, or fixed tuning of amplifiers, oscillators, switches, filters, and multipliers. Standard chip sizes range from 20x40 mils to 127x145 mils, custom designs and thicknesses are available through SemiGen. Design guidelines are virtually limitless and SemiGen can design to accommodate any FET and MMIC device.
Visit the SemiGen Product Library to download a full datasheet on the Mounting Capacitors.
About SemiGen
SemiGen is a leading RF/microwave solutions company that provides manufacturing services and products to fill the voids in the supply chain and manufacturing floor. SemiGen's design and manufacturing center includes RF/microwave assembly, PCB, box build, module repair and test services coupled with the semiconductor devices and manufacturing supplies needed for successful products in the RF/Microwave hybrids and components. Their team helps with designs, builds prototypes, and handles volume production runs for the RF/microwave, military, space, homeland security, optical, medical device, and commercial wireless markets. Their 17,000 square foot facility includes a class 10,000 clean room and offers manual to full automatic assembly for any manufacturing challenge. The company was founded in 2009 and is based in Manchester, NH. For more information, visit http://www.semigen.net
Company Contact:
Jim Morgan
SemiGen,Inc.
603-624-8311
More from Machinery & Machining Tools