Mounting Brackets simplify shaft grounding ring installation.
Press Release Summary: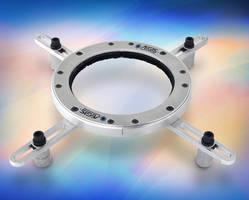 Available for motor shafts to 30 in. dia, Universal Mounting Brackets accelerate and facilitate installation of AEGIS® iPRO, AEGIS® iPRO-MR, and AEGIS® WTG Bearing Protection Rings on large motors. Brackets attach to iPRO or WTG Rings with screws, while slotted legs, used for mounting to motor, accommodate bolt circles from 2.64–7.79 in. dia. Also included are standoff spacers (½, 1, and 1½ in.), mounting bolts, flat washers, and lock washers.
---
Original Press Release:

New Universal Mounting Brackets Simplify Installation of Aegis® Ipro and WTG Shaft Grounding Rings on Large Motors, Generators, and Wind Turbines



MECHANIC FALLS, ME — New Universal Mounting Brackets allow fast, easy installation of AEGIS® iPRO, AEGIS® iPRO-MR, and AEGIS® WTG Bearing Protection Rings on large motors. Specially designed brackets attach to iPRO or WTG Rings with screws and have slotted legs (for mounting to motor) that accommodate bolt circles from 2.64" to 7.79" in diameter.  Brackets are provided with 1/2", 1", and 1-1/2" standoff spacers to provide sufficient clearance for shaft shoulders, slingers, or other end bell protrusions.  Mounting bolts, flat washers, and lock washers are also included.



Available for motor shafts to 30" in diameter, the rugged, highly reliable, and maintenance-free AEGIS® iPRO prevents electrical bearing damage that could lead to the failure of medium-voltage motors or generators, unplanned downtime, costly repairs, and lost revenues. To facilitate field retrofits, the iPRO split-ring comes in mating halves that simplify installation around the shafts of coupled equipment.  The AEGIS® iPRO is ideal for medium-voltage motors that drive pumps, compressors, mixers, shredders, conveyors, and other machinery used in mining, food processing, wastewater treatment, petrochemical refining, and other applications.  It is also ideal for protecting the bearings of generators in both utility and on-site power generation systems.



The AEGIS® iPRO-MR combines an iPRO Bearing Protection Ring with a shaft voltage monitoring ring in a single compact unit.  It ensures maximum uptime and reliability of large motors and generators in critical applications, and enables real-time monitoring of shaft voltage levels on motors in remote or hard-to-access locations.



The AEGIS® WTG Ring prevents electrical bearing damage to wind turbine generators.  Designed for OEM installation or easy up-tower retrofit, the WTG safely diverts up to 120 amps of continuous shaft current at frequencies to 13.5 MHz, as well as discharges to 3000 V (peak).



Without shaft grounding, shaft voltages induced by variable frequency drives (VFDs) discharge through the bearings of motors, generators, and coupled equipment.  AEGIS® iPRO and WTG Rings have six rows of conductive microfibers that completely surround the motor shaft, providing millions of discharge points for harmful shaft currents and creating a path of least resistance away from bearings to ground.



For more information, contact:

Adam Willwerth

Sales and Marketing Manager

Electro Static Technology

31 Winterbrook Road

Mechanic Falls, ME 04256

Toll-Free: 1-866-738-1857

TEL: (207) 998-5140

sales@est-aegis.com

www.est-aegis.com

More from Electrical Equipment & Systems