Mounted Stool swings out of way for cleaning or storage.
Press Release Summary: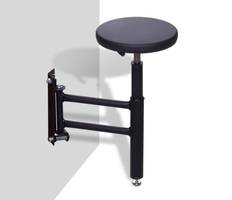 Mounted to wall or other solid vertical surface, BioFit 1Y Series provides functional seating for tight workstation areas. Stool is mobile until person sits on seat, thereby putting seat base in contact with floor. Made of 18 ga steel with formed flange and no sharp edges, seat is 13 in. in diameter and can be adjusted from 22¾-28 in. from floor. Standard distance from wall to outside edge of seat is 20¾ in. Two-bar frame is 1 1/8 in. dia, 16 ga steel tubing.
---
Original Press Release:
Biofit Mounted Stool Provides Functional Seating for Challenging Workstation Space
BioFit® Engineered Products announces a versatile stool that is mounted to a wall or other solid vertical surface to provide functional seating for challenging workstation space. The BioFit 1Y Series stool offers permanent seating that is efficient and convenient in even the most difficult space. An individual can easily swing the stool out from the wall to a work position, or swing it under a conveyor to stations on either side of a production line. The user also can swing the stool out of the way for cleaning or storage. The 1Y stool is extremely mobile until a person sits on the seat, thereby putting the seat base in contact with the floor. The stool is equipped with a nonskid glide to give the seated user added steadiness. The stool's seat height can be adjusted for added comfort and to fit the work task. The stool is available with many optional seat and backrest configurations. Models with a seat/backrest combination are equipped with an ergonomic control for adjusting backrest tilt and height in addition to seat height. BioFit's 1Y stool is standard with a 13-inch diameter seat of 18-gauge steel with formed flange and no sharp edges. This seat is 22 3/4 inches from the floor in the low position and can be adjusted up to 28 inches from the floor. The standard distance from the wall to the outside edge of the seat is 20 3/4 inches. The stool frame is a two-bar unit, 1 1/8 inches in diameter, made of 16-gauge steel tubing. The 2 inch wide attaching bracket, made of 7-gauge steel, is spring loaded to allow the stool base to contact the floor only when weight is applied to the unit. Options include upholstered ergonomic backrests with lumbar support and upholstered ergonomic seats with four-way contouring and waterfall front for added comfort. Also offered as an option is a seat or seat/backrest combination of self-skinned urethane for easy washdown and resistance to damage. Seat options change the low seat height and wall-to-outside edge of seat dimensions. For more information about the 1Y Series stool, visit the BioFit website (www.biofit.com), go to Products and then click on Specialty Products. Information about 1Y seating also can be obtained by calling BioFit toll-free at 1-800-597-0246 (United States and Canada) or emailing the company at [email protected]. BioFit Engineered Products, located outside of Bowling Green, Ohio, is a leading manufacturer of rugged and dependable industrial, high-tech, laboratory, professional and educational seating. Other products include a convertible bench/table system, mobile easy-to-fold tables in six shapes, as well as a patented 10-seat oval cafeteria table and other cafeteria tables with attached seating.