Mount Directly Through Product Mounting Plate to an Electrical Box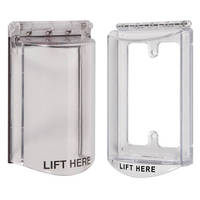 This new hinged cover takes hard knocks in stride while helping to protect smaller-sized electrical units. Cover, mounting frame and its piano style hinge are molded of tough, clear polycarbonate material. Quick and easy to install, the included frame mounts directly through product mounting plate to an electrical box, eliminating the need to drill additional holes in the wall.



STI Single-Gang Protective Cover (STI-6519), brother to the Bopper Stopper® (STI-6518), helps protect push buttons, electrical switches, digital keypads, electrical outlets, smaller-sized pull stations, biometrics and volume or lighting controls against vandalism and accidental damage.



As all STI protective covers, this protective cover is backed by a three year guarantee against breakage in normal use.



For more information on STI Single-Gang Protective Cover (STI-6519), or the entire Stopper® Line, call 800-888-4784, fax 248-673-1246, email info@sti-usa.com or visit www.sti-usa.com.  STI's address is: 2306 Airport Road, Waterford, MI 48327-1209.



More from Electronic Components & Devices