Motorized Linear Stages provide 0.1 µm resolution.
Press Release Summary: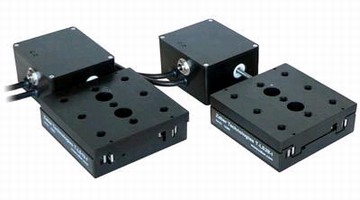 Available in 13 and 28 mm travel versions with metric or imperial mounting holes, Series T-LS can be controlled manually or through RS232 or USB port. Units can be used in X-Y or X-Y-Z configuration with AB90 angle brackets. Suitable as microscope stage, X-Y configuration, when combined with T-JOY3 Joystick Controller, allows manual control of X and Y axes from single interface and enables stage positions to be saved and recalled.
---
Original Press Release:

Brought to You by the Letters X, Y, and Z: Zaber's T-LS Linear Stage



Zaber is proud to present its T-LS linear stage, a 0.1 um resolution motorized linear stage available in 13mm and 28mm travel versions, with either metric or imperial mounting holes. These linear stages can be controlled manually or through an RS232 or USB port. In addition, every linear stage can be used in x-y or x-y-z configuration with our AB90 angle brackets

An x-y configuration makes an excellent microscope stage, especially when combined with our T-JOY3 Joystick Controller allowing manual control of both x and y axes from a single interface as well as allowing microscope stage positions to be saved and recalled at the touch of a button. T-LS stages are also commonly used in micromanipulator applications.

Features:

- 0.1 um resolution

- Built in controllers

- Several units daisy-chain to a single serial port with a single power supply

- Available in13mm and 28mm travel with metric or imperial mounting holes

- Can be used in x-y or x-y-z configuration with our AB90 angle brackets

For more information on the T-LS and compatible products please visit the links below:

For more detailed information about the T-LS Motorized Linear Stages:

http://www.zaber.com/products/product_group.php?group=T-LS&name=Linear_Stage

For more detailed information about the T-LSR Motorized Linear Slides:
http://www.zaber.com/products/product_group.php?group=T-LSR&name=Linear_Slide

About Zaber:

Zaber Technologies Inc. was founded in 1997 when precision motion control was typically accomplished with DC motors and encoders, requiring complicated, cumbersome and expensive controllers, amplifiers and power supplies. In 2000 Zaber introduced the first daisy-chainable miniature linear actuator based on stepper motor technology with integrated RS232 communications and control electronics in one small package. Since then Zaber has added over 120 products to its family of precision motion control and laboratory automation devices including linear actuators, linear slides, motorized x-y-z stages, rotation stages, motorized mirror mounts, and micro-stepping motor controllers. More information on Zaber is available at www.zaber.com/home/about.php.

Zaber Technologies Inc

1-604-276-8033

http://www.zaber.com

More from Transportation Industry Products