Motor Starter is optimized for switching and reversing.
Press Release Summary: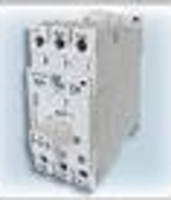 Suited for material handling, packaging, and wrapping markets, REC Contactor Series will switch and reverse 3-phase induction motors. Series includes 3-pole version with 3 switched phases or 3-pole version with 2 switched phases; former eliminates direct connections from power supply to motor. Provided with 1,600 Vp blocking voltage option, starter complies with NMFT/NMFT7 requirements and offers standard surge current withstand capability to 800 Ap (1,600 Vp optional).
---
Original Press Release:

A Compact Solution for Motor Switching and Reversing: the New REC Contactor Series by Carlo Gavazzi



Specific devices for material handling, packaging and wrapping markets.

Lainate - Carlo Gavazzi Automation - the international electronics Group with activities in designing, manufacturing and marketing of electronic equipment, launches the REC Contactor Series, a new range of products, studied in order to switch and reverse three phase induction motors.

Developed by Carlo Gavazzi's engineering teams in Malta, the REC Series is 20 times more durable than equivalent mechanical contactors and succeeds in handling high frequency switching. It is mechanically compatible with a selection of overload modules, by means of a proper adaptor.

The Gavazzi offer includes the 3-pole version with three switched phases or the 3-pole version with two switched phases: the first solution eliminates direct connections from power supply to motor, while the second one maintains the same performance level enabling a relevant cost reduction.

"Material Handling and Packaging & Wrapping are the target markets of REC Contactor Series, that differs in price from competitor products, thanks to its compact design (the 4kW version is half the size of other equivalent devices). More specifically, we believe that the new Series will push our sales in the motor applications market segment and increase Solid State Relays sales, as well"- states Reuben Attard,International Product Manager in Carlo Gavazzi.

In addition to a competitive price, the REC Series assures substantial savings, due to little system downtime and maintenance costs.

The new devices are provided with a 1600Vp blocking voltage option, that enhances their high surge current withstand capability.

Listed with UL as a motor starter, REC Series complies with the NMFT/NMFT7 requirements.

Main technical features

20 times longer lifetime than any equivalent mechanical contactor. Moreover it is able to handle high frequency switching, which generally drives mechanical contactors to rapidly failure, due to contact arcing.

A 3-pole version - in which all three phases are switched - is offered to eliminate direct connections from power supply to motor.

A 3-pole version with two switched phases enables cost reduction, while doing the same function as for the three phase switched version.

Since this product will be switching motors, a high surge current withstand capability is needed. This is as high as 800Ap.
The option for a 1600Vp blocking voltage enhances the immunity of the product even more.

REC series is listed with UL as a motor starter according to the NMFT/NMFT7 requirements.

An adaptor is available, in order to make the product mechanically compatible with a selection of overload modules.

ABOUT CARLO GAVAZZI AUTOMATION
Carlo Gavazzi Automation is an international electronics group with activities in the design, manufacture and marketing of electronic equipment targeted at the global markets of industrial and building automation.

Carlo Gavazzi Automation provides customers with technologically innovative, high quality and competitive solutions, in compliance with their requirements and expectations through its 21 National Sales Companies in Europe, North America, Asia & Pacific,operating with its production sites in Denmark, Italy, Malta, Lithuania and China.

For further information:
Carlo Gavazzi Automation SpA - Via Milano 13 - 20020 Lainate (MI) - Italy
Marketing Communication - viviana.sandon@gavazziacbu.it - www.gavazziautomation.com

More from Packaging Products & Equipment