Motor Mount Manifolds target mobile machinery.
Press Release Summary: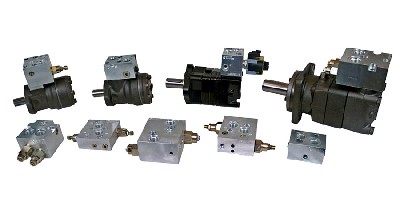 Designed to fit LSHT motors, Hydraulic Integrated Circuits provide commonly needed functions, including counterbalance, cross-port relief, bypass solenoid, and dual shock valve with anti-cavitation. Off-the-shelf HICs are appropriate for swing drives, winch drives, and slew drives, as well as vehicle propulsion, auger drives, conveyor drives, and on/off fan applications. All units are endurance tested to NFPA standards.
---
Original Press Release:

New Family of Motor Mount Manifolds Provides Off-the-Shelf Solutions for Mobile Machinery



Sauer-Danfoss' new NFPA-standards-tested motor mount HICs ensure perfect fit with orbital motors and expedite project timelines.

AMES, IOWA, USA - SAUER-DANFOSS INC. (NYSE:SHS) Off-highway mobile machinery OEMs and distributors can now choose from four types of ready-to-mount hydraulic integrated circuits (HICs), designed to precisely fit seven popular Sauer-Danfoss low speed, high torque (LSHT) motors. This new family of standardized, off-the-shelf HICs will ultimately speed up OEMs' production timelines and control installed costs compared to using remote-mounted custom HICs.

"With the addition of this new family, Sauer-Danfoss now offers the most complete portfolio of HICs that are ready to bolt right on to Sauer-Danfoss orbital motors," said Darren Magner, Product Portfolio Manager, Sauer-Danfoss, Ames, USA. "We have prepackaged solutions to provide everything from smooth motion for aerial lifts to efficient operation of motors configured in a series."

"Because the new HICs are available off-the-shelf, the timeline for receiving certain deliverables is significantly reduced. Pricing is available within minutes, prints are readily available and hardware is in stock," said Magner.

Easy Assembly, Perfect Fit, High Performance
Sauer-Danfoss' new family of motor mount HICs, designed to provide the most commonly needed functions, include: 1) Counterbalance, 2) Cross-port relief, 3) By-pass solenoid and 4) Dual shock valve with anti-cavitation. Additionally, the counterbalance (overcenter) and cross-port relief HICs are available as single or dual valve and with or without a brake shuttle. The by-pass solenoid includes a drain port and an optional robust coil; it is also fully PLUS+1TM Compliant, meaning that this HIC directly interfaces with Sauer-Danfoss' electronic control network for mobile machinery. All of the HICs have been endurance tested to National Fluid Power Association (NFPA) standards.

The prepackaged designs of the new motor mount HICs feature system plumbing and packaging efficiencies that not only decrease assembly time but also eliminate complex tubing and/or hose configurations. Users simply mount the appropriate HIC to the specified orbital motor using O-rings and bolts included in the prepackaged kits.

The new off-the-shelf HICs can be used in combination with the following seven Sauer-Danfoss orbital motors: 1) DH, 2) DS, 3) OMP, 4) OMR, 5) OMH, 6) OMS and 7) OMT. Sauer-Danfoss will continue to accept custom HIC requests to fulfill other needs.

Off-the-Shelf Motor Mount HICs Offer Extensive Functionality
The new family of motor mount HICs are appropriate for a number of applications, including swing drives, winch drives, slew drives (mini-excavators), vehicle propulsion, auger drives, conveyor drives and on/off fan applications.

The counterbalance HIC enhances motor control and ensures smooth, modulated motion. The cross-port relief HIC ensures maximum torque control of motors, over-pressure protection of work ports and full flow relief. If shock effect absorption is needed rather than full flow pressure relief, the dual shock valve should be used. Lastly, the by-pass solenoid, which provides the ability to disengage sub-systems on the same circuit, is perfect for applications where one or more motors in a series must be regulated independently of the others.

To learn more about the new ready-to-mount HICs, visit the Sauer-Danfoss exhibit at the ICUEE show October 16-18, 2007, in Louisville, Kentucky, at the Kentucky Exposition Center. More details about the ICUEE show are available at www.icuee.com.

Sauer-Danfoss Inc. is a worldwide leader in the design, manufacture and sale of engineered hydraulic, electric and electronic systems and components, for use primarily in applications of mobile equipment. Sauer-Danfoss, with approximately 9,000 employees worldwide and revenue of more than $1.7 billion, has sales, manufacturing and engineering capabilities in Europe, the Americas and the Asia-Pacific region. The Company's executive offices are located near Chicago in Lincolnshire, Illinois and in Neumuenster, Germany. More details online at www.sauer-danfoss.com.

For Technical Information:
Darren Magner Sauer-Danfoss
Product Portfolio Manager
Phone: +1 515-239-6000
dmagner@sauer-danfoss.com
Ames, Iowa
USA

More from Chemicals & Gases