Motor Feedback Encoders replace resolvers.
Press Release Summary: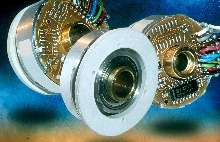 Flex-Mount F10, F15, and F21 commutating encoders provide accuracy of 2.5 arc-min at up to 2048 pulses per revolution. Units mount to motor using servo clamps, and hollow shafts are coupled to motor shaft using jam nut. Servo ring provides 360° of adjustment to align signal outputs to shaft position. Encoders operate in temperatures up to 120°C and provide data rates up to 300 kHz. Diameters range from 1.25-2.06 in.
---
Original Press Release:

Danaher Controls Releases Encoders That Replace Resolvers, Provide Better Accuracy and Speed


CHICAGO-February 7, 2003-Danaher Controls introduces a new series of Flex-Mount commutating motor feedback encoders that use the same physical mounting as resolvers, while providing better accuracy of up to 2048 pulses per revolution and real-time feedback for faster servo loops.

Now it is easier and more affordable for designers to improve machine performance and productivity in stepper and servo motor applications. Previously, engineers who wanted the improved accuracy of an encoder had to choose between bearing-style encoders and less expensive but harder to mount modular (bearing-less) encoders. Danaher's new F10, F15, and F21 Flex-Mount Encoders offer the performance enhancement ability of an encoder with the ease of mounting of a resolver, at a price competitive with modular encoders.

Easier mounting-The encoders employ a special configuration that makes them drop-in replacements for resolvers; they mount to a motor using its servo clamps, and their hollow shafts are coupled to the motor shaft using the jam nut on the top of the motor shaft. A current resolver user could literally pull the resolver off the motor and drop in a F10, F15, or F21 (depending on servo ring size) without changing any of the design or hardware to mount the feedback encoder on the motor.

In addition to easy mounting, the servo ring provides high tolerance to motor shaft movement and 360 degrees of adjustment to align the signal outputs to the shaft position.

Faster and more accurate- The Flex-Mount Encoder series provide accuracy of 2.5 arc-minutes compared to the 10 arc-minutes typical of resolvers. At the same time they provide data more quickly, because the output of a resolver must be digitized by a
resolver-to-digital converter before it can be used, which limits the response speed of the servo loop. The output of an encoder is digital from the start, so there is no delay. Because the new encoders offer faster data rates, up to 300 kHz, the motor can accelerate more quickly, and the servo loop can respond faster.

Smaller-At depths of an inch or less, the new encoders are significantly smaller than most commutating encoders, and match resolvers in size. Diameters range from 1.25 inches to 2.06 inches, depending on size. Flying leads facilitate a low-profile installation.

Less expensive-The F10, F15, and F21 are priced below other flex-mount commutating bearing mounted encoders.

Reliable Operation - Supporting the trend to smaller, hotter-running motors, the Danaher Controls Flex-Mount Encoder series is designed to operate reliably in temperatures up to 120 degrees C. High temperature materials, innovative phased array sensor technology, and low current requirements stabilize the output signals over a wide range of ambient temperatures and output frequencies.

A superior optical configuration allows for generous internal component clearance, eliminating potential damage at high-ambient operating temperatures. Optically generated signals are more reliable than the signals from competitive encoders having hall-effect sensors, which may suffer from hysteresis in brushless DC applications.

Price and availability. Prices start at $120, with OEM pricing available for high volume applications. Units are available as of January 15.

For More Information. For more information on the F10, F15, and F21 Flex-Mount Encoders or any of Danaher Controls' products, contact Danaher Controls at: 800-873-8731. Product information is available by FAX by calling 800430-2153. Website: www.dancon.com.

About Danaher Controls. Danaher Controls designs, manufacturers and markets a wide variety of encoders, counters, motion controls and timing products worldwide, including Dynapar, Northstar, and Hengstler brand encoders, Veeder-Root brand counters, Partlow-West controllers and recorders, and Eagle Signal brand timers. For more infonnation, contact your nearest Danaher Controls distributor or Danaher Controls at 1675 Delany
Road, Gurnee, IL 60031. Phone: 1-800-873-8731 or 847-662-2666; FAX: 847-662-6633. Website: www.dancon.com.

More from Electronic Components & Devices