Motor Controllers suit battery powered vehicles.
Press Release Summary: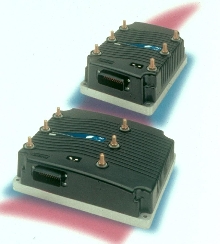 AC Induction Models 1230, 1236, and 1238 are designed for 24 to 80 volt battery systems, with 60 to 800 Arms 2 minute current ratings. Lower power Model 1230 satisfies requirements of small EVs. Models 1236 and 1238 are CANbus-compatible for mid range and larger EVs. They include Vehicle Control Language (VCL) and employ Flash programmable memory that can be erased and re-written many times. All controllers operate with Model 1311 handheld programmer.
---
Original Press Release:
New Curtis AC Motor Controllers - The Arrival of True Flexibility and Functionality

APRIL 30, 2002, MOUNT KISCO, NY - Curtis introduces three AC Induction Motor Controllers: Models 1230, 1236 and 1238, designed for 24-80V battery systems, with 60-800Arms 2 minute current ratings, and targeted for a wide range of battery powered
vehicles. Model 1230 is a lower power controller with features and price points that satisfy the requirements of smaller EVs, such as pallet movers and floor maintenance equipment. Models 1236 and 1238 are fully featured CANbus-compatible controllers for mid range and larger EVs, from forklifts and counterbalances to aerial platforms, people carriers and NEVs.

Key to the flexibility and power of Models 1236 and 1238 is their incorporation of Vehicle Control Language (VCL), a programming language developed by Curtis specifically for
industrial EVs. A first in the industry and a hallmark of optimal design, VCL combines a best-in-class AC motor controller with a powerful Programmable Logic Controller (PLC).
VCL is tuned to industrial vehicle control and comes with predefined functions, such as PID, battery monitoring, 110 control and CANbus communications. This high level, easy-to-use language provides unique input and output features, integrates functions and controls the overall operation of the vehicle. Both OEM designers and Curtis engineers can write VCL programs to customize and create that critical market differentiation for the product.

To allow upgrades in the field or at the OEM manufacturing site, Models 1236 and 1238 employ Flash programmable memory. This memory can be erased and re-written thousands of times without opening the controller, for modification at any stage of development, from quick prototypes to field updates at the customer site.

Models 1236 and 1238 feature the most modern techniques of Indirect Field Orientation motor control, allowing a wider speed range, greater control at lower speeds and maximized efficiency. Using standard motor parameters and a simple tuning method, the
Curtis AC controllers can be easily matched to most AC induction motors for optimal response, feel and security.

All Curtis AC controllers are designed to operate with the new Curtis Model 1311 Handheld Programmer, which features intuitive menus, an ergonomic design and a large LCD graphic screen. For real time information on the vehicle, the controllers can connect
to the new Curtis Model 840 LCD Display, which provides a cost effective means to communicate battery status, vehicle use time and service due indication and error codes.

About the company: Curtis Instruments, Inc. is a leading provider of instrumentation and battery control products. The product line includes battery monitors, motor controllers and power conversion products for electric vehicles; electronic gages, panels and modules for battery and engine powered vehicles and equipment; and timing and counting devices used by many industries. The company has offices around the world with more than 1,000 employees working to produce, market and support its products. Curtis has maintained headquarters in Mount Kisco,
New York since 1960.

More from Packaging Products & Equipment