Motor Controllers are designed for electric vehicles.
Press Release Summary: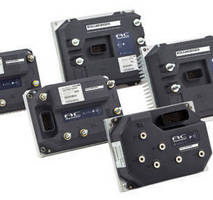 Compact ACS GEN6 Motor Controllers are available in voltages of 24, 36, 48, and 80 V and power levels from 5-50 kVA to suit various types and sizes of electric vehicles. Software platform for vehicle motor controllers, with adjustable event log and detailed troubleshooting information, is included. Low voltage, compact vehicle drives offer OEMs ability to place controller more freely within vehicle to reduce cabling and mounting costs.
---
Original Press Release:

Shorten Development Cycles and Lower Overall Electric Vehicle Life Costs with New ACS GEN6 Motor Controllers from Kollmorgen



Shorten Development Cycles and Lower Overall Electric Vehicle Life Costs with New ACS GEN6 Motor Controllers from Kollmorgen

Compact, high quality and easy-to-integrate controllers deliver unparalleled reliability and performance to minimize total cost of ownership in vehicle applications

RADFORD, VA - Kollmorgen introduces ACS GEN6 Motor Controllers - the new generation of the company's highly successful ACS product family. ACS motor controllers are available in a variety of voltages (24, 36, 48, and 80V) and power levels (5-50kVA, 2min) to suit various types and sizes of electric vehicles. Utilizing the latest MOSFET technology in combination with an innovative design concept, the new ACS GEN6 is up to 47% smaller than previous generation controllers, without any change to the power rating.

"With more than one million AC motor controllers installed in battery and hybrid vehicles around the world, Kollmorgen leveraged that experience and invested it in the development of a new generation of low voltage vehicle drives that offers the OEM superior reliability in a small and cost efficient package," says Mattias Nubäck, Product Manager. "The resulting ACS GEN6 product family utilizes the full potential of the latest MOSFET and microcontroller technology. This enables the OEM to benefit from the latest proven technology, while minimizing warranty and troubleshooting costs, at an attractive price level. The ultimate benefit to the OEM is that they will further strengthen their brand name by delivering high quality, no-hassle vehicles with low total cost of ownership."

The latest MOFSET technology is more efficient and robust than its predecessors. Greater efficiency enabled Kollmorgen to design a more compact ACS controller that reduces the requisite number of mechanical components. Greater robustness and fewer components maximizes reliability, while smaller size enables OEMs to place the controller more freely within the vehicle to reduce cabling and mounting costs. The net impact for OEMs who utilize ACS GEN6 motor controllers is maximum reliability with lower total cost of ownership.

ACS GEN6 is the first Kollmorgen product released with Kollmorgen's new software platform for vehicle motor controllers. The software enables Kollmorgen to customize software to meet specific customer requirements, while crucial firmware functionality remains untouched. Improved granularity and adjustability of the event log, as well as advanced logging, are firmware features that bring value to both OEMs and end-users by allowing detailed and accurate troubleshooting information to shorten vehicle downtime and minimize service costs. Additionally, the software is designed to meet the high quality standards of the automotive and hybrid markets, and Kollmorgen's software development process is regularly audited for conformance to Automotive SPICE©.

The design and manufacturing process of ACS GEN6 controllers ensures maximum product quality. ACS GEN6 has gone through repeated Design For Manufacture (DFM) analyses during the design process to ensure that the product is optimized for stable and consistent manufacturing at high volume. Specialized production equipment tailored to manufacturing ACS GEN6 was developed alongside the actual products to ensure that the production equipment and processes, as well as the product itself, enable low variance production. All ACS GEN6 motor controllers leaving the production line have been carefully tested at various points in the production process to ensure that each unit leaving the production line is fully functional and documented.

ABOUT KOLLMORGEN

Kollmorgen is a premier supplier of AC motor controllers and related products to the vehicle industry around the globe, with over 60 years of motion control design and application expertise.

Through world-class knowledge in motion, industry-leading quality processes, and proven performance design and manufacturing of drives for both battery and hybrid vehicles, Kollmorgen continues to deliver reliable solutions unmatched in performance, cost efficiency, and ease-of-use; giving OEMs an irrefutable marketplace advantage.

For more information visit www.kollmorgen.com, email sales.sth@kollmorgen.com or call 1-540-633-4144.


More from Electrical Equipment & Systems