Motor/Control Package reduces wiring and panel space.
Press Release Summary: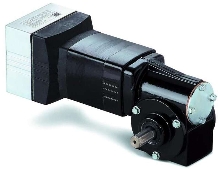 INTEGRAmotor integrates brushless dc motor and speed control in one package, minimizing both EMI and installation time. It operates from regulated 24 Vdc power supply and is available with or without integral gearbox; parallel and in-line gearboxes are offered with outputs from 1.0-2,500 rpm. Stock models accept analog ±5 Vdc input signal for speed control or direction. Hollow shaft and OEM custom built-to-order models are also available.
---
Original Press Release:

INTEGRAmotor Combines a Motor & Control In One Compact Package


Bodine Electric Company introduces the INTEGRAmotor, which combines a Brushless DC motor and speed control into one compact package. The INTEGRAmotor is designed to reduce wiring and panel space, minimize EMI, and reduce assembly time and cost. Typical applications include office equipment, packaging machines, conveyor systems, medical equipment, graphics machinery, factory automation, etc.

Operating from a regulated 24VDC power supply, stock models are available with or without an integral gearbox. Both parallel and in-line gearboxes are offered with outputs ranging from 1.0 to 2500 RPM. Designed for speed control and light positioning applications, INTEGRAmotor stock models accept an analog +/-5VDC input signal for speed control or direction. Hollow shaft models are also available. Hollow shaft units can be connected directly to the driven load, which saves space and eliminates unnecessary parts that are bulky and present alignment issues. An OEM custom built-to-order model is available, consisting of a 24VDC Brushless DC Motor with a built-in, open loop, voltage mode PWM controller, accepting PWM input from an external motion or speed controller featuring amplifier enable, along with direction input, dynamic braking, and a built-in 256 PPR, 2-channel encoder.

Bodine Electric Company is celebrating its 100th anniversary of manufacturing fractional horsepower electric motors in 2005. Still family owned, Bodine is headquartered in Chicago, Illinois, and offers a wide range of more than 850 stock motors and gearmotors worldwide, including AC, DC, and Brushless DC. Each drive is complemented by system-matched Bodine motion controls. Bodine also offers built-to-order services with engineering support for concurrent product development. All items are available from a strategically located network of Bodine MotionPRO Sales Reps & Authorized Distributors worldwide.

For more information, contact Bodine Electric Company, Marcom Dept., 2500 W. Bradley Place, Chicago, IL 60616.
Tel: 773-478-3515; 1-800-7BODINE; Fax: 773-478-3232; Bodine-Electric.com; sales@Bodine-Electric.com

More from Optics & Photonics