Motor Control Kits include DSP source code.
Press Release Summary: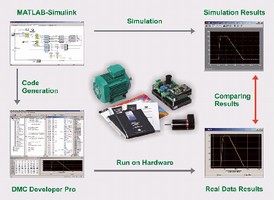 Based on TI's TMS320F28335 floating point digital signal controller, MCK28335 Kits C Pro-MS are available in versions for development, testing, and validation of brushless or induction motor controls. Plug-and-play systems come with C language source code, including MATLAB motion library, and Simulink models for PMSM position and speed control. Development software, based on RS232 serial communication, complements controller board, 3-phase inverter module, and brushless or induction motor.
---
Original Press Release:

MCK28335 Motor Control Kits with Optimized DSP Source Code



The new Technosoft MCK28335 kits with source code and MATLAB libraries are complete motion control development and evaluation packages based on TI's latest floating-point digital signal controller: TMS320F28335. With this embedded floating-point processor, users will significantly save development time and effort; specific issues related to fixed-point processors (as saturation, overflow, scaling of parameters and variables) are no longer a problem now.

MCK28335 Kits C Pro-MS (BL or IM) represent the most advanced existing development platforms in the digital motor control field. They are plug-and-play systems, with complete C language source code, including a MATLAB motion library, and Simulink models for PMSM position and speed control. They also include complete DSP source code (not generated from MATLAB) optimized for real-time execution for PMSM and BLDC speed control. A powerful development software platform based on RS232 serial communication complements the hardware (controller board, 3-phase inverter module and brushless or induction motor).

Both BL (brushless) and IM (induction) kit versions are self-contained, so designers can start their project evaluation and development immediately. They will discover how easy it is to control a brushless motor in trapezoidal or sinusoidal mode, or an induction motor in vector control or V/f mode. Moreover, for experienced designers these kits are an impressive and very efficient starting point for any advanced motion control application. Starting from the MATLAB-Simulink model, users can adapt the control model, simulate the system, then automatically generate the C code for their schematics. This code can be tested on DSP and simulation results can then be compared with the real control results.

The Technosoft MCK28335 professional kits with source code and MATLAB libraries are perfectly suited solutions for the quick development, testing and validation of any brushless or induction motor control application. Designers will save important resources by using this development procedure. Replacing a hardware (motor, inverter, sensors) or software (control blocks) component is easily feasible here. This approach offers a major advantage: it always starts from a functional, complete system, and makes it much easier to detect the effect of the change in the application architecture.

For further details: http://www.technosoftmotion.com/products/TOOLS_MSKPro.htm#MCK28335CMSBL_MCKPro

More from Mechanical Power Transmission