Motion Sensors / Detectors / Transducers
Motion Detection Sensors serve high bay, occupancy applications.
Press Release Summary: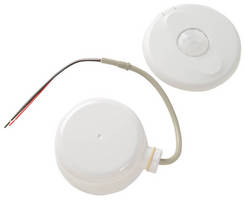 Suited for lighting loads up to 1,200 W, Line Voltage Ceiling Sensors do not require power pack and have terminal wiring. Walk through mode turns on light upon detecting human presences and switches light off after 3 min without any detected movement or presence. Available in series for wet and dry locations, High Bay sensors suit spaces with high bay ceilings that require motion detection. Mounting heights range from 20–60 ft., and coverage ranges from 60 x 20 ft. up to 60 ft dia.
---
Original Press Release:

Legrand/Pass & Seymour Introduces New Range of Sensors



Productivity and energy saving key benefits



SYRACUSE, N.Y. – Legrand/Pass & Seymour (P&S), a leading provider of electrical wiring devices and home systems, has announced the availability of two new sensor categories - Line Voltage Ceiling Sensors and High Bay Sensors.



These sensors complement Pass & Seymour's already extensive line of sensors and are designed to comply with future energy code changes coming from both ASHRAE 90.1-2010 and IECC 2012.



The new Line Voltage Ceiling Sensors do not require a power pack and are suited for lighting loads, up to 1200W.  They also have terminal wiring for quick and easy installation in a ceiling.



"For contractors this is an important feature," says Keith Falkenberg, marketing manager for commercial and industrial products at Legrand/Pass & Seymour. "An easier installation process without an external power pack means that contractors boost their productivity and can move onto the next project much sooner."



The Line Voltage Sensors also feature a walk through mode. "This is a great energy efficiency feature and will help commercial users reduce their energy consumption even more," adds Falkenberg.  "The sensor switches on the light when someone walks into an area. Three minutes later the walk through mode checks to see if the area is still occupied. If it detects no movement or a human presence, it switches the lights off.  This makes it ideal for brief visits such as mail delivery."



Two models of Line Voltage Sensors are available. The CSD1000LV, which is able to cover an area of1000 Sq. ft and makes use of both PIR and Ultrasonic technology (dual technology). The CS1200LV, which is best suited for areas up to 1200 Sq. ft. and uses Passive Infrared (PIR).



The High Bay range of sensors is perfectly suited for spaces with high bay ceilings such as warehouses and gymnasiums. They require application specific sensors to accurately detect motion.  "Legrand, Pass & Seymour has addressed this unique requirement with the new line of High Bay Sensors" continues Falkenberg. "They have specialized lens types for various heights and areas of coverage and are quick and easy to connect and install."



Three different models are available with mounting heights ranging from 20 ft. to 60 ft. and coverage ranging from 60 ft. x 20 ft. up to 60 ft. diameter.



High Bay sensors use PIR technology and two series are available, one for use in wet locations, such as cold storage environments, and the other for dry locations. "Wet and dry location High Bay sensors help business owners to better manage their energy consumption. In today's highly competitive business environment making use of this type of technology to contribute towards operating cost reduction and energy efficiency is a smart choice," concludes Falkenberg.



Both the wet and dry location High Bay sensors can be mounted on either a junction box or a special extender module which allows the sensor to be mounted on to the lighting fixture itself.



Connect with Legrand/Pass & Seymour on Facebook www.facebook.com/legrandna, Twitter www.twitter.com/passandseymour or www.twitter.com/legrandna, and YouTube http://www.youtube.com/legrandna



About Legrand

Legrand is the global specialist in electrical and digital building infrastructures. Its comprehensive offering of solutions for use in commercial, industrial and residential markets makes it a benchmark for customers worldwide. Named to Forbes'2011 list of the 100 Most Innovative Companies, Legrand believes innovation for a steady flow of new products with high added value is a prime vector for growth. Legrand reported sales of $5.7 billion in 2010.  Legrand has a strong presence in the North American market, with a portfolio of well-known product lines that include Cablofil, Electrorack, On-Q, Ortronics, Pass & Seymour, Vantage, Watt Stopper and Wiremold. The company is listed on NYSE Euronext and is a component stock of indexes including the SBF120, FTSE4Good, MSCI World, ASPI. In 2010, Legrand was added to the European DJSI as well (ISIN code FR0010307819).  www.legrand.us

More from Agricultural & Farming Products