Motion Controller Kits target OEMs.
Press Release Summary: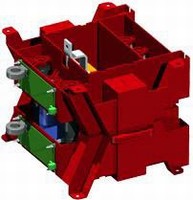 Offering PowerBrick power circuit technology, 15 kV Allen-Bradley Bulletin 1503E medium voltage SMC Flex OEM component kits suit OEMs and power intergrators using motors from 10-14.4 kV at 200 and 400 A ratings. Fiber optic multiplexer board accommodates gate drive signals for up to 36 silicone controlled rectifiers and kits also include voltage feedback system. They limit starting torque and minimize mechanical damage to belts, gears, and other machinery.
---
Original Press Release:

OEMs Reduce Costs and Simplify Installation with New 15 kV Smart Motor Controller OEM Component Kits with Stackable Power Circuit Technology from Rockwell Automation



Latest medium voltage 15 kV SMC Flex design offers new PowerBrick power circuit technology for easy installation, flexible mounting and reduced inventory carrying costs

MILWAUKEE, July 23, 2007 - Original equipment manufacturers (OEMs) using higher-voltage motors receive improved performance and simplified power circuitry with the new 15 kV Allen-Bradley Bulletin 1503E medium voltage SMC Flex OEM component kits from Rockwell Automation. The OEM kits meet the needs of global OEMs and power integrators using motors from 10 to 14.4 kV at 200 and 400 amp ratings that require a robust, economical, medium voltage, soft starter solution in a kit format.

The new OEM component kits contain the same control as existing SMC Flex products, but now feature a patented power circuit technology called PowerBrick. OEMs simply connect the PowerBricks in series to meet their required system voltage rating. Easy installation saves time and the flexible mounting arrangement meets the needs of varying enclosure designs. PowerBricks help OEMs reduce inventory carrying costs as they support a wide range of utilization voltage, and save maintenance time with quick removal and repair of a single PowerBrick.

Additional design extensions include higher voltage setting in the SMC Flex control module, a fiber-optic multiplexer board to accommodate gate drive signals for up to 36 silicone controlled rectifiers (SCRs) and a new voltage feedback system.

Allen-Bradley medium voltage SMC Flex soft starter solutions help provide cost savings by limiting starting torque, and minimizing mechanical damage to belts, gears and other machinery. The SMC Flex also helps customers meet power company restrictions and avoid process shutdowns during power system brownouts by reducing high inrush current when starting medium voltage motors.

The medium voltage SMC Flex family is ideal for pump, fan, compressor, conveyor and blower applications in industries including automotive, forestry, metal and mining, petrochemical, cement, water/wastewater and electric power.

Rockwell Automation, Inc. (NYSE: ROK) is a leading global provider of industrial automation power, control and information solutions that help manufacturers achieve a competitive advantage in their businesses. The company brings together leading global brands in industrial automation which include Allen-Bradley controls and services and Rockwell Software factory management software. Headquartered in Milwaukee, Wis., the company employs about 19,000 people serving customers in more than 80 countries.

For more information on the SMC-Flex OEM component kits, please contact the Rockwell Automation Response Center, 10701 Hampshire Avenue South, Bloomington, Minn., 55438, 800.223.5354, Ext. 2025

More from Controls & Controllers