Motion Controller handles complex tasks for up to 30 axes.
Press Release Summary: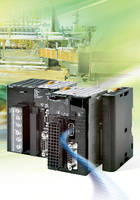 Integrating with CJ-Series PLCs, Trajexia CJ1W-MCH72 Module can operate up to 14 tasks simultaneously and control up to 30 axes over MECHATROLINK-II Motion bus with independent position, speed, or torque control for every axis. Each axis can run complex interpolated moves, e-cams, and e-gearboxes. Module includes digital I/Os, MECHATROLINK-II master connection, and serial port for external encoder input. Selectable cycle time, from 0.5-4 ms, enables individual response to servos and AC drives.
---
Original Press Release:

Omron's Space-Saving, Trajexia-PLC Motion Controller Module for CJ Platform PLCs Handles Complex Tasks for Up to 30 Axes



SCHAUMBURG, IL (Sept. 1, 2009) -- Omron Electronics LLC (omron247.com) has introduced a compact Trajexia motion controller module that integrates seamlessly with CJ-Series PLCs to handle complex motion tasks for up to 30 servos or inverters (AC drives) over a high-speed motion network. It is ideally suited for OEM applications where panel space reduction is a priority, and cost reductions in design and installation are essential to competitively pricing the finished machine. The Trajexia-PLC module CJ1W-MCH72 helps to meet the most demanding motion control requirements while minimizing space, saving on wiring, optimizing design and allowing easy integration with an HMI. The module is fully compatible with low-cost CPU model CJ1M, standard and high-speed processing CPU models CJ1G and CJ1H, and advanced programmable automation controller (PAC) CPU model CJ2H, enabling OEMs to scale control to match machine and process requirements. It takes advantage of all the reliability, flexibility and modularity of Omron PLCs.

Trajexia-PLC module CJ1W-MCH72 can operate up to 14 tasks simultaneously and control up to 30 axes over MECHATROLINK-II Motion bus with independent position, speed or torque control for every axis. Each axis can run complex interpolated moves, e-cams and e-gearboxes. Included in one compact module are digital I/Os, MECHATROLINK-II master connection, and serial port for external encoder input. The digital I/Os include 16 inputs, 2 with registration functionality; 8 outputs, 1 with hardware position switch functionality. The encoder input can be used as master axis.

The Trajexia motion controller module and the PLC exchange data through shared mapped memory areas via PLC bus, helping simplify programming and data access, making machine design quicker and easier, and enabling easy integration with other devices. The selectable cycle time, from 0.5 ms to 4 ms, provides flexibility to respond individually to servos and AC drives. The module also takes advantage of the wide range of CJ1 interface board options to communicate to other Fieldbus systems such as Ethernet, Profibus or DeviceNet.

CX-Motion Pro (Trajexia Studio) tool in the CX-One software suite makes motion programming easy, even for complex motion tasks, thanks to intuitive and powerful programming tools based on the Motion Basic instruction set. The software includes dedicated commands for linking axes, e-cams, e-gearboxes etc. Automatic recognition, control and configuration of drives via the MECHATROLINK bus allows easy set-up and maintenance - locally or remotely. When used with Omron PLCs, HMIs and other field devices, Trajexia is also fully integrated within Omron's CX-One automation software suite, with motion coordination, drive configuration and system debugging performed over the Ethernet connection. Time-saving features in the software include:

o Multi-device support

o Drag & drop functionality

o Offline programming and advanced download

o Program compare tool

o Axis configuration wizard

o Advanced editor features

o Advanced debugging tools including trace and oscilloscope functions

The software supports CJ1W-MCH72 PLC-based Trajexia motion controller, the stand-alone Trajexia controller and future developments.

For further information, contact: Omron Electronics LLC, 1 Commerce Drive, Schaumburg, IL 60173. Tel.: 800-55-OMRON. Fax: 847-843-8081. Internet: omron247.com and www.trajexia.com.

Omron Electronics LLC provides scalable machine automation solutions and offers a wide range of industrial control components to support customers throughout the Americas. Designed for complete automation connectivity, Omron delivers solutions that integrate programmable controllers, motion control, operator interfaces, machine vision, and RFID systems using a single software package. Omron is a global leading manufacturer of industrial sensors, temperature controllers, power supplies, relays, switches, and metering devices that support a complete automation solution. Omron Electronics LLC is the Americas subsidiary of Omron Corporation, a $6.3 billion diversified company with business units producing industrial automation, electronic components, healthcare equipment, and ticketing systems.

Mark Traxler

Sr. Marcom Specialist--IAB

One Commerce Drive

Schaumburg, IL 60173

Phone: 847-285-7176

Fax: 847-285-8176

E-mail: mark.traxler@omron.com

omron247.com

Related