Motion Control combines motion and logic on single platform.
Press Release Summary: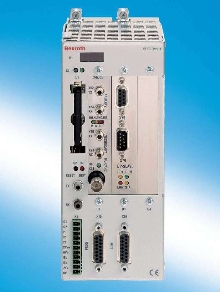 Available in rack-based or PC-based design, VisualMotion 10 handles single-axis positioning, multi-axis Electronic Line Shafting, synchronization, and robotic coordinated path movements. Windows-based integrated motion and logic software runs on standard PC to program Rexroth PPC motion and logic controller. VisualMotion 10 can connect up to 32 PPC controllers together by means of cross-communications, to provide synchronized motion control for up to 1,280 axes.
---
Original Press Release:

Bosch Rexroth Introduces Its Next Generation Controls Platform - VisualMotion 10


Company will display its new controls platform at MD&M East/ATX/EastPack, June 13-15, 2005 in New York, NY, Booth #2805

VisualMotion 10's powerful, Windows-based integrated motion & logic software runs on any standard PC to program the Rexroth PPC, a combined motion and logic controller. Each PPC can provide up to 40 axes of real-time motion control and multi-tasking PLC control.

With decades of motion expertise in the food and packaging industry, Bosch Rexroth introduces its most powerful, motion-based platform ever - VisualMotion 10. This fully-reusable motion control platform allows OEM's and end users to retain their initial programming investment, while a newly integrated, IEC 61131-3 compliant, multi-tasking PLC allows for combined motion and logic on a single hardware and software platform. In addition, VisualMotion 10 provides the ability to connect up to 32 PPC controllers together, by means of cross-communication, to provide highly-synchronized motion control for up to 1280 axes.

VisualMotion 10 can handle single-axis positioning, multi-axis Electronic Line Shafting (ELS) synchronization and robotic coordinated path movements. It is specifically designed to meet the requirements of the packaging industry with its ability to perform on-the-fly synchronization and on-the-fly changes between different products and materials on the machine. We have developed a new graphical segmented cam editor for higher resolution. Also offered is 32 channel, high-speed Programmable Limit Switch (PLS) capability, with an update time of 250µs and lead/lag compensation for variable machine speed, for the dispensing of complex glue patterns.

This new platform is now available in either a traditional rack-based or a PC-based (PCI format) design for complete scalable performance. The PC-based solution offers the same real-time performance as the rack-based system due to its embedded co-processor design. Supporting this increase in functionality is a new, higher performance PPC controller with 100 Mbps Ethernet onboard, a removable CompactFlash(TM) memory card, 16 Mbps SERCOS support and a much faster, higher performance processor. An OPC server offers the ability to easily interface with Rexroth HMIs or any third-party HMI. All the major fieldbuses are available in either fieldbus master or slave configurations.

VisualMotion 10 is an open architecture platform that follows the OMAC for packaging guidelines for SERCOS and Profibus interoperability, IEC 61131-3 programming environment, PackML state model implementation, plus the use of PLCopen motion function blocks.

In North America, the Bosch Group manufacturers and markets automotive original equipment and aftermarket products, industrial automation and mobile products, power tools and accessories, security technology, packaging equipment and household appliances. Bosch Rexroth Corporation, a merger of Bosch Automation Technology and Rexroth, is a wholly owned subsidiary of Robert Bosch GmbH. In the year 2003, Bosch Rexroth AG achieved sales of $4.4 billion (3.7 billion Euros) with 25,700 employees.

Under the brand name of Rexroth, the company offers all relevant drive, control and motion technologies: from mechanics, hydraulics and pneumatics to electronics and associated services. Rexroth has 500,000 customers in over 80 countries and is an extensive supplier of components and systems for industrial and factory automation and mobile applications.

Related