Motion Control Cards feature max pulse output of 4 Mpps.
Press Release Summary: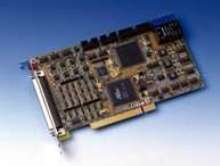 Models PCI-1241/1242/1261 provide 4- and 6-axis of servo and stepper motor control. They support 2D and 3D interpolation for linear, circular, and arc motion, as well as T- and S-curve acceleration. All 3 cards provide precise position and rotation control, as each axis is equipped with 32-bit logical position counter that counts axis pulse output number; and 32-bit real position counter that records feedback pulse from outside encoder or linear scale.
---
Original Press Release:

Advantech Releases 3-Dimension Circular Interpolation, High Performance 4 and 6-axis Motion Control Cards


Cincinnati, Ohio (September 22, 2004) - Advantech Corporation, Industrial Automation Group is again making a contribution to the fast-growing market for PC-based motion control solutions with a series of high-performance 4 and 6-axis servo and stepper motor control cards.

Each year, the required number of I/O points and axes increases as machinery and manufacturing processes are growing in complexity. More advanced interpolation and increased accuracy are also key trends. Advantech's new PCI-1241, PCI-1242 and PCI-1261 are designed to meet these trends.

2D and 3D interpolation for linear, circular and even arc motion, as well as T-curve and S-curve acceleration is supported, and the maximum pulse output rate is up to 4 Mpps. Blended motion trajectory control and group functions are also available. A special ASIC was designed to provide these powerful functions. The advanced interpolation can accurately form shapes like propellers or small turbines, so it is expected that the new series will be used for very advanced motion control.

For more I/O points, the cards can easily be combined with I/O cards such as the PCI-1756 with 64 isolated digital input and output channels.

One of the most common requirements for motion control solutions is the ability to group axes. For example, the 6 axes of one motion control card can be defined into three groups, and the board supports operating three 2D linear or circular interpolation simultaneously. This is useful for applications such multiple-axis tooling machines, as they need to be synchronized.

Based on P-type Closed-Loop control, PCI-1241 supports an additional circuit that allows PCI-1241 to drive voltage-type servo motors with -10 to +10 V signals, and have PCI-1241 be applied to multi-axis precision servo control. The voltage command output is popular in Europe and USA.

All three motion control cards provide precise position and rotation control, as each axis is equipped with a 32-bit logical position counter that counts the axis pulse output number; and a 32-bit real position counter that records the feedback pulse from the outside encoder or a linear scale.

PCI-1241/1242/1261 are in stock now and ready for purchase. Contact an Advantech sales representative today to find out more about the 4 and 6-axis motion control cards and solutions at 1-800-800-6889.

Advantech Corporation, Industrial Automation Group - Founded in 1983, the Industrial Automation Group of Advantech Corporation is the only complete PC-based Industrial Automation Solution Manufacturer offering products such as Industrial PCs, Workstations, Panel PCs, Flat Panel Monitors, Heavy Environmental PCs, Customized PCs, Single Board Computers, Data Acquisition & Control Devices and Web-enabled products for a wide array of industries. Drawing on the talents of more than 1,800 people, Advantech operates an extensive sales and marketing network in 16 countries and 35 major cities to deliver fast time-to-market services to our worldwide customers. Today Advantech offers over 700 products and solutions, adding 30 new products each year. US operations for the Industrial Automation Group are based in Cincinnati, OH (877-294-8989). Advantech Corporation, Industrial Automation Group, 1320 Kemper Meadow Drive, Suite 500, Cincinnati, OH 45240. Web: advantech.com/eAutomation. Email: info@advantech.com

Brandon Rhoten
Advantech Corporation, Industrial Automation Group
phone: (513) 742-8895 x333
fax: (513) 742-0554
web: advantech.com/eAutomation
media info: http://www.advantech-eautomation.com/media

More from Electronic Components & Devices