Motion Control Card has 4 axes.
Press Release Summary: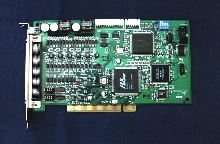 Model PPCI7443 4-axis motion control card allows control of stepper motors or servomotors. It incorporates PCL6045 control chip, and offers 32-bit PCI-bus plug and play capability, output frequency of 6.55 Mpps (max), trapezoidal and S-curve motion profile capability, and ability to change speed and position. Any combination of 2 of its 4 axes can be used for circular interpolation, or 2, 3, or 4 axes can be used in linear interpolation.
---
Original Press Release:
PPCI7443: 4-Axis Motion Control Card

Nippon Pulse Motor Co., Ltd., Radford, VA - (March 18, 2002) Nippon Pulse Motor would like to introduce the newest member of their product family. This new product is the PPCI7443, and is an advanced 4-axis motion control card that allows control of stepper motors or servomotors. The PPCI7443 PCI-bus controller incorporates a PCL6045 control chip as part of its compact design.

The PPCI7443 offers a 32-bit PCI-bus plug and play capability, and features a maximum output frequency of 6.55 Mpps, trapezoidal and S-curve motion profile capability, and the ability to change speed and position "on the fly." Any combination of two of the four axes can be used for circular interpolation, or two, three, or four of the axes can be used in linear interpolation. The PPCI7443 also offers thirteen home return modes, a 28-bit up/down counter for incremental encoder feedback, and simultaneous start/stop motion on multiple axes. Also available is user-friendly software that incorporates MS-DOS, C/C++ programming library; Windows® 95/98/ME/NT/2000 DLL; and a test monitor. The software allows for easy set-up and supports up to a maximum of twelve PPCI7443 cards, allowing operation of up to forty-eight axes.

The single unit price of the PPCI7443 is $650.00, and includes the software. For an additional cost, Nippon can also offer a 100-pin cable and a junction board.

Nippon Pulse Motor Co., Ltd., offers various controllers, drivers, motors, and communication chips to cover almost any stepper application. Please visit the website at www.pulsemotor-usa.com for information about all the products that are offered.

Company Information:
Internet: www.pulsemotor-usa.com
E-mail: info@pulsemotor-usa.com
Fax: 1-540-633-1674
Telephone: 1-540-633-1677