Motion Analyzer works on MEMS and MOEMS structures.
Press Release Summary: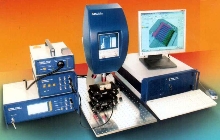 Micro System Analyzer MSA-400 measures and displays microstructure motions for 3D dynamic characterization of microelectromechanical systems (MEMS) and micro-optoelectromechanical microstructures (MOEMS). Integrated probe head microscope characterizes broadband out-of-plane vibrations with Laser Doppler Vibrometry as well as in-plane displacements with stroboscopic video microscopy. Unit also detects out-of-plane and in-plane resonances using laser-Doppler techniques.
---
Original Press Release:

Polytec, Inc. Offers New Microstructure (MEMS) Motion Analyzer


April 6, 2005 - Tustin, CA - Polytec, Inc., specializing in advanced scanning vibrometers and light-based measurement systems, introduces a powerful new tool for precise 3-D dynamic characterization of microelectromechanical systems (MEMS) and micro-optoelectromechanical (MOEMS) microstructures. A fully integrated, probe head microscope, the MSA-400 Micro System Analyzer can completely measure and display microstructure motions, simplifying identification of microstructural resonances in all three dimensions. The combination tool is designed to quickly characterize broadband out-of-plane vibrations with Laser Doppler Vibrometry (max. 20 MHz, sub-pm resolution) and in-plane displacements with stroboscopic video microscopy (max. 2 MHz, nm resolution). An optional second laser is available for measuring differential out-of-plane vibrations between scanned and fixed locations.

The MSA-400 refines MEMS analysis and development. Engineering productivity is increased by faster measurements and superior performance over stroboscopic video-only solutions. The Micro System Analyzer rapidly detects out-of-plane and in-plane resonances using proprietary, highly sensitive laser-Doppler techniques. Besides steady state motions, the MSA-400 can measure transient processes utilizing wide-band (pulsed) excitation. Once the resonant frequency is identified, the stroboscopic video microscopy technique can obtain accurate amplitude and phase information surrounding the resonance and display the results in a Bode plot.

By properly integrating the optics and optimizing the optical path and coatings, Polytec engineers have designed the MSA-400 with excellent image quality, high lateral resolution and diffraction-limited probe spots. The micro system analyzer is simple to setup, ready to take data within minutes and easily integrates with probe stations for wafer level measurements. Vibrational analysis of microstructures for automotive, medical, bio-chemical, military and aerospace applications has never been simpler or better.

Polytec, Inc., is a wholly-owned subsidiary of Polytec GmbH (Waldbronn, Germany). The company has delivered high-performance light-based measurement solutions and products for R&D, industrial, medical, automotive, MEMS, semiconductor, photonics and aerospace markets for 30 years. Offering solutions in electro-optical instrumentation, Polytec's commitment to "advancing measurements by light" has earned the company numerous national and international awards. For more information, please visit www.polytec.com

More from Fluid & Gas Flow Equipment