Cleaning Compounds and Chemicals
Most Innovative Cleaning Machine of 2015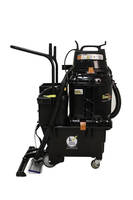 Kaivac's battery-powered AutoVac was voted the most innovative cleaning machine at the 2015 ISSA convention.



The AutoVac is an automated, high performance floor machine used to clean floors similar to an automatic scrubber. In fact, studies indicate its effectiveness at removing soils and contaminants is actually better than an automatic scrubber.



But here's the innovative part. The AutoVac costs about 1/6th that of a scrubber, is easier to use, with far less downtime. Now that's innovation.



For more information, visit www.kaivac.com, or call 513-887-4600.



About Kaivac

Headquartered in Hamilton, Ohio, Kaivac Inc., is the originator of the No-Touch Cleaning™ system and manufactures a full line of No-Touch cleaning products aimed at making cleaning processes safer for people and the environment while preserving quality and cost-efficiency. For more information on the company and its products, call 800-287-1136 or visit www.kaivac.com.

More from Cleaning Products & Equipment